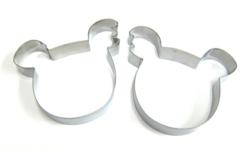 Teaneck, NJ (PRWEB) October 08, 2012
Gummybear International, creators of the animated gummy bear character and YouTube sensation known as Gummibär, have unveiled their new Gummibär shaped cookie cutters, sure to please both parents who love to bake and their kids.
The new Gummibär cookie cutters are 3" wide (across the face) and 4″ wide (across the ears) and are made of tinplated steel. These instruments of confectionary creativity are perfectly suited for making cookies, brownies or any other tasty baked treats in the iconic shape of Gummibär's head.
These new Gummibär cookie cutters arrive just in time for the holiday baking season. Specially made Gummibär baked goods are a fun addition to any Thanksgiving or Christmas dessert tray - not to mention the perfect party-favor in a Gummibär themed children's birthday party, a captivating pastry at any bake sale and a fantastic treat for costumed Halloweeners.
The Gummibär cookie cutters are available now on http://gummibar.net for $6.99 with domestic US shipping included and for $9.99 with international shipping included. Plus, every cookie cutter purchase comes with a free reverse image cookie cutter, perfect for making sandwich cookies!
The new cookie cutters are a creative addition to an ever-growing line of Gummibär merchandise available for purchase on the website, which includes CDs, DVDs, Plush Toys, T-Shirts, custom USB flash drives and more!
Gummybear International is engaged in the creation, development, and branding of animated entertainment properties, as well as musical content based on and produced for such properties. It markets and sells recorded musical and video products in various physical formats, such as compact discs and DVDs, and digital formats, such as downloads and ringtones, through a worldwide network of established distributors and licensees. The company's music publishing segment owns and acquires rights to musical compositions, markets these compositions, and receives royalties or fees for their use. It also is actively developing mobile and computer based games and exploiting merchandising rights for its brands in cooperation with a variety of licensing partners. GBI is working on a number of film and TV projects. The company is headquartered in New Jersey. For more information, visit the Gummybear International website at http://www.gummybearinternational.com/.