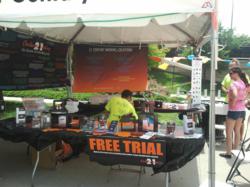 With our product, they won't have to go outside the stadium for a smoke break, but will be able to stay in their seat and not miss a minute of the action. We are just trying to give smokers a choice
Chicago, IL (PRWEB) October 05, 2012
Electronic cigarette company 21 Century Smoking, a Chicago based electronic cigarette retailer, will be providing an alternative to cigarettes for those attending the football game. Notre Dame comes into the game ranked 9th in the nation and Miami is currently in first place in the ACC Coastal Division.
The Notre Dame Fighting Irish are off to the team's best start in years and this will be one of the toughest matchups of the season for both teams. Miami is an extremely high scoring squad, having scored at least 38 points in 4 of its first 5 games. The game will be televised nationally on NBC.
Since Soldier Field is a 100% non-smoking venue, 21 Century Smoking will be allowing the fans of the game to have a real alternative to cigarettes at the game. While the fans in attendance will not be able to smoke traditional cigarettes inside the venue, they will be able to use electronic cigarettes while watching the game from their seats.
21 Century Smoking is based out of Chicago and has stores in 4 different states along with its Internet property. The company is the exclusive provider of the Blackjack electronic cigarette. With a unique range of product offerings, 21 Century Smoking is one of the most innovative companies in the electronic cigarette industry. 21 Century Smoking electronic cigarettes come in 8 different colors, 5 strengths, and over 60 flavors as well.
"This is going to be a great game between two traditional college football powers. College football fans, myself included, are excited that our great city is hosting this exciting game. Our company is thrilled to be playing a role in this game," said Brent Duke, President of 21 Century Smoking. "We've done numerous events at Soldier Field, but this will be the biggest yet. Our primary goal is to make this great venue even better for all the smokers at the game. With our product, they won't have to go outside the stadium for a smoke break, but will be able to stay in their seat and not miss a minute of the action. We are just trying to give smokers a choice."
21 Century Smoking will have a booth setup for purchasing their product in the Soldier Field Beer Garden.
About 21 Century Smoking, Inc.
21 Century Smoking, Inc. is an electronic cigarette retailer and has been an industry leader since opening for business in 2009. 21 Century Smoking is the official retailer of the world famous Blackjack electronic cigarette. 21 Century Smoking sells its products through its website (http://www.21centurysmoking.com) and in a number of stores and malls throughout the United States. Feel free to visit any of our stores, including the company's flagship location in Chicago, IL located in the Lincoln Park neighborhood.
21 Century Smoking, Inc. also have locations at Pacific View Mall in Ventura, CA, at 7 W. Haley in Santa Barbara, CA, Westfield Gateway Mall in Lincoln, NE, at 1551 N. Plainfield Rd. in Joliet, IL, River Oaks Mall in Calumet City, IL, Lincolnwood Town Center in Lincolnwood, IL, Westfield Franklin Park in Toledo, OH, Summit Mall in Akron, OH, Beachwood Place Mall, in Beachwood, OH, Richmond Town Square in Richmond Heights, OH, Great Lakes Mall in Mentor, OH, and Parmatown Mall in Parma, OH.