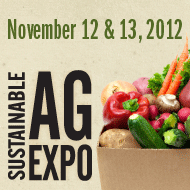 a grower representative will outline the simple things you can implement now to protect water quality
Monterey, CA (PRWEB) October 09, 2012
Water is critical to agriculture operations, and it's also one of the most timely topics in local, regional, and state policy. Learn the latest issues at the Sustainable Ag Expo's "Protecting Surface & Groundwater Quality: Current Data, Waiver Update, and Grower Innovation" on November 12, 2012 at the Monterey Conference Center in Monterey, California.
Featuring speakers from CSU Monterey Bay, Central Coast Water Quality Preservation Inc., Regional Water Quality Control Board, Rio Farms, and UC Davis, this general session will delve into monitoring and permitting, the current status of water regulations, and the latest ideas in sustainable on farm water management.
"We all value water quality, but managing it in a dynamic farming environment is very difficult, and proving the effectiveness of best management practices is even harder," said Jocelyn Gretz, Sustainable Agriculture Program Manager, Rio Farms. She noted that in this session, "scientists will explain recent trends in our region's water quality and the new studies on the effectiveness of farm-based solutions. A Regional Board staff member will also share their point of view, and a grower representative will outline the simple things you can implement now to protect water quality."
The 8th Annual Sustainable Ag Expo will be held November 12-13, 2012 at the Monterey Conference Center in Monterey, California. Comprised of innovative presentations and a trade show all focusing on the latest trends in sustainability, the Expo was established by Central Coast Vineyard Team as a communication nexus for sharing information and management strategies throughout the entire California agriculture industry.
Visit http://www.sustainableagexpo.org for more information on the event, including attendee registration and the schedule of events, or call 805.466.2288.