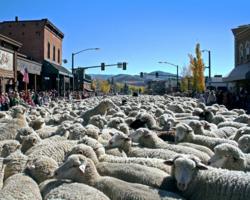 "One of the Top 10 Festivals in the World" - MSN.com Travel
Sun Valley, ID (PRWEB) October 05, 2012
For Immediate Release (Sun Valley, ID) Each fall, a century-and-a-half-old tradition is celebrated in the Sun Valley area as the sheep which spent summer grazing in the surrounding mountains are herded back into the neighboring desert lowlands. The 16th Annual Trailing of the Sheep festival honors this tradition, offering up a robust weekend of fun and cultural activities for everyone from the foodie to the history buff to the curious visitor October 11-14, 2012.
This annual migration ushers in the start of fall with an actual herding of over 2,000 sheep through the streets of downtown Ketchum. This anachronistic parade is just a small part of an amazing weekend which features the Sheepdog Championship Trials, the Fiber Festival, the Folklife Fair (sheep sheering demonstrations, traditional dancing and musical performances, spinning and weaving demonstrations, and story telling competitions to name a few), culinary events, art and photography exhibits, and more all celebrating the colorful history, heritage, and cultures of Idaho and the American west.
Named by MSN Travel as one of the Top 10 Festivals in the World, the Trailing of the Sheep has been a recipient of the Governors Award for Cultural Heritage and has been named as one of the Top 100 Festivals in America.
This rich and rewarding experience will leave an impression which will last a lifetime offering a glimpse into a way of life which is threatened around the world.
For the complete schedule of events and more information on the Trailing of the Sheep Festival visit http://www.trailingofthesheep.org