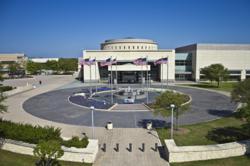 College Station, Texas (PRWEB) October 04, 2012
Diana Untermeyer will present her well-researched and anecdotal account of the nation of Qatar, its traditions and challenges at the Issues Forum "Qatar: Sand, Sea, and Sky" Oct. 16, 7 p.m. at the George Bush Presidential Library and Museum at Texas A&M University.
The presenter, Diana Untermeyer,lived in Doha, Qatar, from 2004-2007 while her husband, Chase Untermeyer, served as U.S. ambassador. In Qatar she was active with women's and children's programs and in the conservation, arts and health communities. Diana participated in numerous equestrian sports and won top rider for the 2006-2007 endurance season.
Her book, "Qatar: Sand, Sea, and Sky" (2011) is an intimate portrait of a modern Arab state which has used its petroleum wealth to burst onto the world stage in spite of its small size. There will be a book sale and signing, as well as a free reception following the issues forum.
Through a generous sponsorship from AT&T the event is offered free of charge, but reservations are strongly recommended. Register online at untermeyer.eventbrite.com. For more information call (979) 691-4014 or email reservations.bush@nara.gov.
The George Bush Presidential Library and Museum at Texas A&M University is part of the National Archives and Records Administration's Presidential Libraries network. The Bush Library and Museum preserves and makes available the records and artifacts of George H.W. Bush, 41st President of the United States. We promote civic literacy and increased historical understanding of our national experience, and foster a community of public service and volunteerism by offering rich educational and public programs, original museum exhibits and access to our archival holdings. For more information visit the Bush Library and Museum website at bushlibrary.tamu.edu.