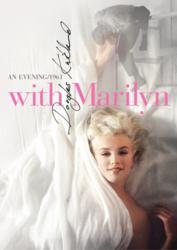 I have photographed numerous celebrities but everyone wants to know first about Marilyn Monroe.
Hollywood, California (PRWEB) October 06, 2012
Danika Quinn of the Actors Reporter interviews photographer Douglas Kirkland at his Hollywood Hills home.
Douglas Kirkland has photographed everyone from Judy Garland, Elizabeth Taylor, Coco Channel, to Angelia Jolie and the legendary Marilyn Monroe. His most recent book is entitled "An Evening with Marilyn."
Although Douglas Kirkland has photographed numerous celebrities. everyone wants to know first about Marilyn Monroe. Douglas shares what Marilyn was really like. At the time, he was a young frightened photographer working with Marilyn for LOOK Magazine. Marilyn liked still photography better than motion pictures because she could live it in that there was no script so Marilyn could be more creative. Their evening was sexually and creatively charged.
Douglas Kirkland also tells Danika about his first big break photographing Elizabeth Taylor, followed by his month touring with Judy Garland. Also, Coco Channel probably affected his life more than anyone else in Paris with Mademoiselle Magazine.
An Evening with Marilyn by Douglas Kirkland, photographer, may be purchased on Amazon.com.
Thank you Douglas Kirkland for taking the time out of your busy schedule to give Actors Reporter this exclusive interview of your life. We look forward for more to come.
Actors Reporter is a channel on the Actors Podcast Network, a Pepper Jay Production.