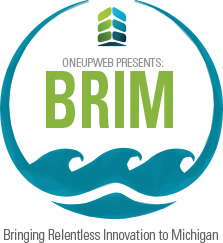 It's wonderful to have an opportunity like BRIM to share and learn about all the fascinating work people are doing all over this great state.
Traverse City, MI (PRWEB) October 05, 2012
After the immense success of BRIM 2011,Oneupweb is delighted to announce the second BRIM event on Thursday November 8th, 2012, at the Oneupweb headquarters in Traverse City, MI. BRIM, which stands for Bringing Relentless Innovation to Michigan, is an inspirational forum for Michigan business owners and entrepreneurs to share ideas and experience, covering an array of topics such as navigating a changing business environment, growing customer relationships through social media, mobile marketing, and turning entrepreneurial passion into success.
BRIM's keynote address will be delivered by Rick DeVos, CEO of Start Garden and Founder of ArtPrize. "Forums like BRIM are an amazing opportunity for the serendipitous connections and collaborations that drive new approaches and work," says DeVos. "It's wonderful to have an opportunity like BRIM to share and learn about all the fascinating work people are doing all over this great state."
In addition to the speakers and panelists representing fifteen of Michigan's leading companies, the event also presents a remarkable opportunity for new businesses and aspiring entrepreneurs. The agenda includes an investor pitch session in which five qualifying applicants will have two minutes each to present their ideas in front of a panel of esteemed judges and the entire BRIM audience. The judges will then deliberate and choose one presenter to receive $2500, generously sponsored by The Bank of Northern Michigan, to kick-start their venture which will be announced at the start of the Cocktail Networking hour.
"The Bank of Northern Michigan maintains a strong commitment to helping grow successful businesses throughout our northern Michigan community. I had the honor of participating in Oneupweb's BRIM event last year. The talent and enthusiasm represented by the entrepreneurs attending BRIM underscored the great future we have in Michigan. We are very pleased to be a part of BRIM again this year and I'm looking forward to participating as a panelist for the pitch session." says John D Paul, Jr., president and CEO of The Bank of Northern Michigan.
Applications and attendance are free. Applications must be submitted by October 26th, 2012 to attend, and October 19th, 2012 to be considered for the investor pitch session. For more information or to apply, visit the BRIM website.
About Oneupweb:
Oneupweb has been an innovator in digital marketing for more than 16 years, creating integrated online marketing strategies that incorporate search marketing (SEO and PPC), social media, web design, and mobile services. Heralded by an independent research firm for their leadership team, work ethic and solid experience in optimizing complicated sites, Oneupweb has been named a Top 25 Search Marketing Agency by Advertising Age for five consecutive years, and CEO Lisa Wehr is recognized as an Ernst & Young Entrepreneur of the Year. The company publishes an award-winning blog— StraightUpSearch, and an award-winning monthly newsletter—The Merge. Oneupweb is a privately held company located in Traverse City, Michigan. For more information on Oneupweb, please call 231.922.9977, visit OneUpWeb.com or follow them on Twitter @Oneupweb and @LisaWehr.