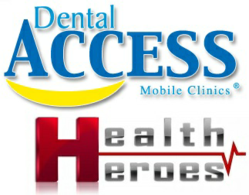 Rock Hill, SC (PRWEB) October 05, 2012
Dental Access Mobile Clinics announced today that they will be featured in an upcoming episode of Health Heroes.
Dental Access Mobile Clinics is an innovative dental concept that brings the dentist directly to the patient. Dental Access Mobile Clinics took a giant leap toward perfecting the mobile dental industry by partnering up with the leader in specialty transportation vehicles in order to better design the mobile dental office.
With spacious interior and well-placed, state-of-the-art equipment, the Dental (Access?)Mobile Clinic was designed with the actual practice of dentistry in mind. This allows true four-handed dentistry to be performed, including complex surgical and restorative procedures. Clinics also come standard with a panoramic and two intraoral x-ray units, which are digitally capable so that diagnostic procedures can be performed.
"Necessity is the mother of invention, and that has proven true with our business. Dental Access Mobile Clinics was born out of the need to have a mobile dental office that functioned as closely to a brick and mortar as possible while being small enough to be driven by the average driver," reports Dr. John E. Reese, III. "I spent months trying to locate a company who could fit that bill without success, so, in 2001, I designed my own model which resulted in the construction of a unit designed by dentists for dentists! Our temporary dental offices were also born out of need when a small fire closed our office for 3 weeks. We designed a unit which can be placed on site at the desired location so patient treatment is not interrupted while construction occurs simultaneously. We are very excited that Health Heroes noticed our unique niche in the marketplace and chose to feature us in their program!"
Today, constant advances in mobile technologies make it possible to bring just about any service to the patient. This particular episode of Health Heroes gives viewers a behind-the-scenes look at the precision and dedication that goes into the manufacturing of these unique mobile dental clinics and temporary offices.
"Every day, new advances in mobile technologies are bringing more and more to the touch of our fingertips," said Barbara Perry, Senior Producer of Health Heroes. "I'm proud to be able to give Health Heroes viewers an inside look at the manufacturing of these state-of-the-art dental mobile clinics."
About Dental Access:
Dental Access Mobile Clinics, LLC (DAMC) was founded by Dr. John. E. Reese, III as an offshoot of his mobile dental practice, Dental Access Carolina, LLC, which started in 2001. DAMC sells and leases Mobile Dental Clinics and Temporary Dental Offices designed for maximum efficiency and effectiveness to fit almost any need.
For more information visit http://www.dentalaccess.com or call 803-324-3220.
About Health Heroes:
Health Heroes is a powerful TV series dedicated to defining and exploring today's latest medical advances in all areas of health and wellness. Written with both the industry professional and television audience in mind, Health Heroes educates, entertains and enlightens the lives of our viewers.
For more information visit: http://www.dmgproductions.org or call (866) 496-4065.
Media Contact:
Barbara Perry, Senior Producer
(866) 496-4065 x 825