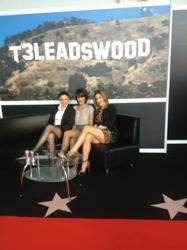 The show was a huge success. We learned a lot about improving the customer experience. Diana Kirakosyan
Los Angeles, CA (PRWEB) October 06, 2012
Representatives of Affiliate Network Leader, T3 Leads, including CMO David Gasparian, CEO Dmitry Fomichev and CFO/President Grigor Demirchyan have concluded two days of meetings with lenders and affiliates from across the globe that attended the ad:tech London trade show.
Ad:tech London is held for the purpose of "connecting the digital media community for two days of purposeful learning and networking.
T3Leads was sponsor to half of the networking lounge where the Hollywood theme was a big hit.
Said Regional Product Manager, Diana Kirakosyan, "there was a steady stream of attendees who came by to photograph the lounge. It had the desired effect of attracting and entertaining. We're very pleased with the outcome."
T3Leads matches affiliate marketers with financial businesses, who are looking to expand their business. It uses sophisticated web design and back-end technology to offer the most productive and user-friendly lead generation system available.
T3Leads utilizes a proprietary platform wherein affiliate marketers customize T3 designed sites, or they may create their own. For those that create their own it is a host and POST system. This combination of websites results in lead traffic of the highest caliber.
T3Leads is located in Encino, California and employs more than 50 employees worldwide.