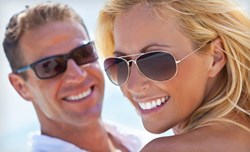 keratin fibers work by adhering to existing natural hair giving it a thickened and full appearance
(PRWEB) October 06, 2012
Millions of men and women suffer from hair loss or thinning hair. Studies have shown hair loss has a significant influence on the physical and emotional health of hair loss sufferers. Rebecca, lead beauty specialist of TheBeautyPlace.com,recommends Bosley Hair Thickening Fibers for concealing thinning hair and bald spots.
Keratin fibers are similar to the density and structure of natural hair and are able to blend and cover sparse areas of hair. The hair fibers work by adhering to existing natural hair giving it a thickened and full appearance. Many clients are attracted to this hair loss concealer because of its versatility. It is waterproof, sweat proof, and will not rub off. The hair thickening fibers are available in every hair color: black, dark brown, medium brown, light brown, auburn, and blond.
Rebecca states not all clients use hair loss concealers because they suffer from hair loss. She commented many clients use the Keratin fibers to cover root re-growth thereby extending in-between visits with a colorist. Since it washes off easily with shampoo many of her clients use the Bosley Hair Thickening Fibers every day. She also stated patients who have undergone hair transplant surgery use Bosley Hair Thickening Fibers as a safe alternative than a hat because the Keratin Fibers do not clog pores. After a hair transplant, the procedure is visible for about a week to two weeks and new hair growth starts to appear 2 to 3 months and fully grown hair shows in about a year thus the need for for a hair loss concealer.
"Bosley Hair Thickening Fibers easy application makes it a reliable hair product," stated Rebecca. However, if clients want a guaranteed mess-free application, Bosley Hair Thickening Fibers Brush Applicator is sold separately. The use of the brush applicator prevents product over-use and provides controlled application around the hair line and hard to reach areas. Bosley Non-Aerosol Hair Spray & FiberHold Spray is a medium hold spray that ensured all day durability.
TheBeautyPlace.com is a leading online company offering professional hair care and skin care brands at affordable prices. They strive to offer a range of top brands to accommodate various beauty needs.
Follow TheBeautyPlace.com
On Pinterest: pinterest.com/thebeautyplace/
On Twitter: @TheBeautyPlace
On Facebook: Facebook.com/pages/TheBeautyPlacecom/125435188536?ref=ts
TheBeautyPlace.com Blog: blog.thebeautyplace.com