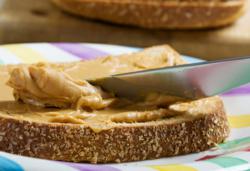 More needs to be done to protect our children from Salmonella. --Bill Marler
Worcester, Massachusetts (PRWEB) October 05, 2012
A lawsuit was filed today against Sunland, Inc. and Trader Joe's, the manufacturer and retailer who sold Salmonella-contaminated peanut butter products that state and federal public health officials identified as the source of a multi-state Salmonella Bredeney outbreak in September. The lawsuit was filed in Worcester County Superior Court (CA No. 12-2005) by Marler Clark, the nation's leading law firm representing victims of foodborne illness, on behalf of Worcester County, Massachusetts resident Brandi Henson and her 4-year-old son.
The complaint alleges that Ms. Henson purchased Valencia peanut butter on multiple occasions between May and July. Her child, who regularly ate peanut butter on sandwiches and other items, became ill with nausea, cramps, and diarrhea—all symptoms of Salmonella infection—on July 31, 2012. According to the complaint, he required 2 visits to the pediatrician. A stool sample submitted during one of the visits later tested positive for Salmonella Bredeney, the strain of Salmonella public health officials have shown is associated with the consumption of peanut butter made by Sunland, including Trader Joe's Valencia peanut butter.
"My client was feeding her family what she believed was a safe product," said Bill Marler, attorney for the Henson family. "It's a shame that a staple of nearly every American kid's diet is once again causing illness. More needs to be done to protect our children from Salmonella."
Marler noted that the FDA Food Safety Modernization Act, signed by President Obama nearly a year ago, has languished in the Office of Management and Budget for months, while peanut butter, cantaloupe, cheese, mangoes and other FDA-regulated products have caused hundreds of documented illnesses. "It's not just food companies that need to act in the name of food safety. Our government needs to do more, too."
Background: Bill Marler, managing partner of Marler Clark, has represented thousands of victims of foodborne illness since 1993, when he represented the most seriously injured survivor of the Jack in the Box E. coli outbreak. Marler Clark has represented victims of nearly every major foodborne illness outbreak in the past 20 years.