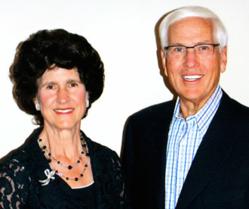 Lynchburg, Va. (PRWEB) October 04, 2012
Liberty University has announced it recently received a planned gift of $1 million from a generous donor committed to the mission of Training Champions for Christ. This single gift brings the donor's total gifts to Liberty in the last 10 months to $3 million.
Glenn and Rachael Esbenshade have supported the university and its related ministries since the early 1980s. They gave generously to the tennis program in the early 1990s. Glenn is a successful Pennsylvania businessman in the agribusiness field and a real estate developer.
The Esbenshades last visited campus for May's Commencement, where they watched their grandson receive a degree. Glenn Esbenshade told the Liberty Journal that seeing his grandson experience all Liberty had to offer was the biggest evidence to him that he has been supporting a worthwhile cause.
"I was more impressed than ever when I watched him the last few years," he said. "When I saw his education and how Liberty kept him grounded in his faith and the spiritual emphasis and guidance there, I thought, 'Wow we need to have this university prosper in the future.'"
Read about the Esbenshades in the latest issue of the Liberty Journal.
About Liberty University
Liberty University, located in Lynchburg, Va., is the world's largest Christian university. Nearly 100,000 students attend classes on its 6,800-acre residential campus and study in its thriving online education program.