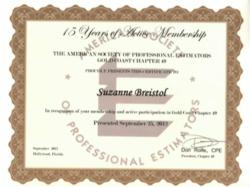 Originally I was asked to help. I stay with ASPE because, over the years, estimators have earned a special place in my heart.
Fort Lauderdale, FL (PRWEB) October 09, 2012
Fifteen years ago the 49th Chapter of the American Society of Professional Estimators (ASPE) founder Michael Benton needed someone with administrative and organizational skills and a background in the construction industry to help expand their chapter. Suzanne Breistol, co-founder of Construction Connection, soon stepped in as the Chapter Secretary. Today, Breistol is still Secretary of the 49th Chapter and was recently honored with her 15-Year Service Pin from the ASPE.
"Originally I was asked to help. I stay with ASPE because, over the years, estimators have earned a special place in my heart, and I have come to appreciate more and more the value the right estimator brings to a contracting firm," says Breistol of her ongoing involvement within the organization.
The ASPE is as well-known for their advancement of the role of professional estimators as they are for their education outreach and charity. Every year the organization hosts charity events to raise money for scholarship funds which are awarded to construction industry pros to help them continue their education. Their Annual Charity Golf Tournament is coming up next week, and the ASPE is eager to help more students. They also offer job placement assistance to estimators looking for work.
Experience and an acute understanding of the construction industry also led Breistol and co-founder Kent Leighton to build their own business designed to help professionals across the construction industry: ConstructionConnectio.com. Inspired by many of the cornerstone values of ASPE, Breistol and Leighton also wanted to help people in the construction industry find jobs, make connections and continue their education. Construction Connection features a unique job-matching system that matches qualified candidates to jobs that suite their individual talents. Bresitol used her knowledge and experience developing curriculums for the ongoing education programs at the ASPE to begin to develop the Partners program at CC as well.
The Partners program was designed to provide employees and employers alike with access to resources tailored to the construction industry. Partners include industry professionals such a legal firms, engineers, manufacturers, prevailing wage compliance/benefit consultants and many more all of whom are there to help CC members succeed in their businesses. As a member of ASPE for 15 years, Breistol knows the value of keeping up with your education in the industry. Many construction and contracting companies do not realize the importance of using a professional estimator, for instance, but Breistol assures them it's a vital part of the process.
"Estimating is many times treated as an overhead expense [rather than] a necessary role within the construction industry… Project Managers often try to act as the Estimator too, but the reality is most Project Managers, though willing and able to estimate, are motivated to win the project so that they can get back to their role as PM," explains Breistol. "A specialized estimator will tend to make sure all items are accounted for in the pricing and will take time to write and review the entire scope of the job to make sure the prices submitted for time and materials from their subcontractors and vendors fit into the grand scheme." Taking a cue from the ASPE, Breistol and Leighton are dedicated to their mission to improve the construction industry by pairing qualified candidates with the right jobs and educating everyone from CEOs and managers to builders and electricians.
Construction Connection was created out of a need for a more effective and streamlined way for construction industry professionals to get matched with the right industry jobs and with the right industry opportunities. The partners of Construction Connection, both industry professionals themselves, listened to both company and individuals' dissatisfaction with the traditional job boards, the paid resume blasts, the overpriced resume services and overall lack of sympathy toward the individual candidate. We also listened to the dissatisfaction from companies who post jobs only to get many irrelevant results or having to purchase high priced ads to showcase their company. Construction Connection is a patent-pending, one-of-a- kind profile creating / match-making system. The system delivers effective results. Construction Connection saves you time, money and aggravation by matching people to people, people to companies, companies to people, and company to company.