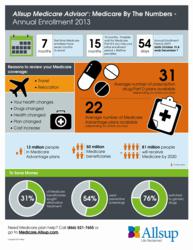 It's essential to review Medicare plans and individual needs each year, and to use the Medicare annual open enrollment period to make changes to coverage. - Allsup
Belleville, IL (PRWEB) October 05, 2012
Finding the Medicare coverage that best fits their needs and their pocket books is challenging for many seniors, according to Allsup, a nationwide provider of Medicare plan selection services and Social Security disability representation. Each year, healthcare plans make changes to their coverage. People's health conditions change, and not keeping on top of these changes can cause problems. Suddenly seniors may find they don't have needed coverage, their doctor no longer takes their plan, or they face steep medical and prescription drug costs.
That's why it's essential to review Medicare plans and individual needs each year, and to use the Medicare annual open enrollment period to make changes to coverage. Medicare annual open enrollment runs from Oct. 15 through Dec. 7, with new benefit choices effective the following Jan. 1.
"Getting started early is key," said Mary Dale Walters, senior vice president of the Allsup Medicare Advisor®, a Medicare plan selection service for Medicare-eligible individuals. "Choosing Medicare coverage is complicated, even when you have lots of information on the Web. It can be difficult to get current plan information and to get an apples-to-apples comparison of Medicare plans."
Medicare Plan Choices: Get An Early Start
Walters offered these tips for seniors to manage and lower their healthcare costs.
Be an informed consumer. Millions of seniors, their families and caregivers will be pleased to know that for the third straight year the average basic Medicare Part D prescription drug premiums will remain steady. However, details on many other Medicare plan costs have not been released and plans can change deductibles and co-pays, in addition to premiums. For example, plans can change how they cover certain medications or procedures.
As a result, it's important seniors know exactly what they are paying for. Shop around for better prescription prices and ask about costs. For additional savings, use generic medications and take advantage of Medicare preventive services, including many types of screenings, tests, shots, counseling, training and supplies now offered without co-pays or other out-of-pocket costs as a result of the Affordable Care Act (ACA).
Ask for help. In addition to guidance on retirement and long-term care planning, seniors can rely on professionals to help them with healthcare choices. Walters pointed out this can include Medicare specialists such as Allsup or financial planners who often consult Medicare experts. "Healthcare planning is a quality of life and a financial issue," Walters said. "If you need assistance sorting through the overwhelming number of options, it's important to know that help is out there for you. Don't be afraid to ask."
Grace Hercules used Allsup to research her Medicare needs and learned she could save more than $1,000 a year by switching drug plans. "I thought a mail-order prescription plan was best for me, but their specialists proved me wrong about this, and I am so happy," she said.
"People can probably do their own taxes, but when they pay a tax adviser they get better returns," Hercules added. "It's getting the mindset that good help is available. It's really worth getting expert help and not having the aggravation."
Be proactive. Having known and been around seniors, Hercules said she is saddened that so many settle for high costs or keep the same Medicare plan year after year because of a lack of understanding.
"Use Medicare annual open enrollment to take a fresh look at your healthcare situation for the coming year," Walters said. "Rather than just considering whether to replace your current plan—start with a blank page and outline your current needs, healthcare changes, financial situation and choose a plan that best meets those needs. You may find Medicare plans that suit your current situation even better."
Just as seniors review their finances or taxes each year, Medicare annual enrollment is the ideal time to review healthcare coverage, Walters said. "It's OK to admit it's confusing and you need help. Look at all your Medicare options and take charge of your healthcare."
Medicare plan options include Medicare Advantage plans and Medicare Part D plans. In addition to Medicare annual enrollment, special enrollment periods happen throughout the year for specific situations.
Reach a Medicare specialist with your questions or for an evaluation of your Medicare plan options, by calling Allsup Medicare Advisor at (866) 521-7655.
Find additional information at Medicare.Allsup.com.
Editor's Note: Media outlets can access Allsup's Medicare season infographic, "Medicare By The Numbers," here: http://www.allsup.com/Portals/4/AEP-info-graphic-for-2013.pdf.
ABOUT ALLSUP
Allsup is a nationwide provider of Social Security disability, Medicare and Medicare Secondary Payer compliance services for individuals, employers and insurance carriers. Founded in 1984, Allsup employs more than 800 professionals who deliver specialized services supporting people with disabilities and seniors so they may lead lives that are as financially secure and as healthy as possible. The company is based in Belleville, Ill., near St. Louis. For more information, go to http://www.Allsup.com or visit Allsup on Facebook at http://www.facebook.com/Allsupinc.
The information provided is not intended as a substitute for legal or other professional services. Legal or other expert assistance should be sought before making any decision that may affect your situation.