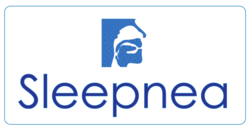 next-generation masks that more people can tolerate because they can be custom fitted to their unique facial contours
Forest Lake, MN (PRWEB) October 06, 2012
Sleepnea LLC, a developer of new treatment options for sleep apnea, has received approval of U.S. patent 8,276,588 for an innovative CPAP mask that a person can custom fit to the contours of their face. This mask technology lets a wearer selectively adjust shape-changing segments around the perimeter of the mask. This can help to reduce or eliminate places around the mask perimeter that either fit too tightly (causing irritation, skin marks, and pain) or fit too loosely (causing air leaks and reduced therapeutic effectiveness). This mask technology is not yet approved by the FDA, but could shape the next generation of CPAP masks.
Continuous Positive Airway Pressure (CPAP) is the recommended therapy for many people with Obstructive Sleep Apnea (OSA). CPAP keeps a person's airway open with a stream of pressurized air while they sleep. However, if the CPAP mask fits too loosely in some places, then it can leak air and be ineffective. If the mask fits too tightly in some places, then it can cause skin irritation and pain. Such problems can contribute to non-compliance with CPAP therapy.
Sleepnea's newly-patented mask technology holds promise for creating masks that closely conform to the contours of an individual's face so that there are no places around the mask that fit too tightly (causing irritation, skin marks, and pain) and no places that fit too loosely (causing air leaks). Future versions may enable automatic re-adjustment as a person sleeps, eliminating leaks and tight spots that can form while a person tosses and turns in their sleep.
"Some people who would benefit from wearing a CPAP mask cannot tolerate wearing one," said Sleepnea's CEO, Robert A. Connor, Ph.D., "We are excited about the potential of our newly-patented technology to create next-generation masks that more people can tolerate because they can be custom fitted to their unique facial contours. We are pursuing its development with the hope that it will provide physicians and patients with new treatment options for OSA. We welcome inquiries from parties to potentially collaborate with us in its development, prototyping, and testing in order to bring it to market to benefit people with OSA."
About Sleepnea: Sleepnea LLC is a technology start-up in Minnesota that is developing new options for treating Obstructive Sleep Apnea (OSA) and snoring. These new options include: a system to help people with OSA comprising harvesting energy from gas outflow during exhalation and using that stored energy to increase gas inflow during inhalation; a mask with a perimeter that can be custom fitted to the contours of a person's face; a user interface that allows a person to differentially and selectively adjust movable mask members; a device with redundant pathways for delivering pressurized breathable gas; and a device with actively-moving members that hold or move the tongue forward. These devices are not approved by the FDA at this time. The CEO of Sleepnea, Robert A. Connor, Ph.D., is a serial inventor who has been honored by the Minnesota Intellectual Property Law Association. Sleepnea LLC welcomes inquiries from potential investors and collaborating companies concerning joint research and development of these devices.
Contact: Robert A. Connor, Ph.D.,CEO, Sleepnea LLC, (612) 339-1442, info(at)Sleepnea(dot)com
###