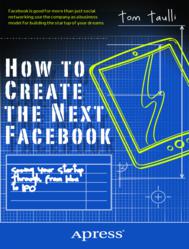 New York, NY (PRWEB) October 05, 2012
Latest release from Apress, How to Create the Next Facebook: Seeing Your Startup Through, from Idea to IPO by tech guru Tom Taulli crystallizes the process by which Facebook was shepherded from idea to IPO. Facebook, the world's largest social media platform went public this February, and besides the hiccups in its stock price and all the negative press, there is no doubt that Facebook has made billions for its employees from just one idea and the company is inarguably the single most successful social networking site in the world. But Facebook didn't become the sensation that it is today by chance. The company has become so successful because it has a leader in Mark Zuckerberg who is a genius at starting a company and keeping it focused, and who is willing to understand and overcome his own shortcomings.
How to Create the Next Facebook: Seeing your Startup Through, from Idea to IPO by Tom Taulli answers the one question that has remained unanswered until now: From a business standpoint, how, exactly, did Facebook do it? How did a college student with no real-world business experience take a relatively simple idea and then, less than ten years later, turn it into a $100 billion dollar company? What specific steps did Facebook take along its journey to create perhaps the most innovative startup of the 21st century? What approach did Zuckerberg take when pitching venture capitalists, and how did he go about forging its many strategic partnerships? And, most importantly, how can would-be founders learn and effectively utilize Facebook's unique techniques and strategies in their own startup efforts? The book acts as a guided blueprint for budding entrepreneurs who are ready to start building their own great business.

ISBN: 978-1-4302-4647-3
208 pages
Publication Date: October 4, 2012
Available eBook Formats : EPUB, MOBI, PDF
Print Book Price : $29.99
eBook Price: $20.99
About the Author
Tom Taulli is based in Silicon Valley, in the heart of IPO land. On a regular basis, he talks with many of the top tech CEOs and founders to find the next hot deals and discover which startups are stinkers. A long-time follower of the IPO scene, Taulli started one of the first sites in the space, called WebIPO, in the mid-1990s. It was a place where investors got research as well as access to deals for the dot-com boom. From there, he started several other companies, such as Hypermart.net, which was sold to InfoSpace in 1999. Currently, Taulli is an advisor to tech companies and writes extensively on tech, finance, and IPOs. His work has appeared on Forbes.com, TechWeb, and BusinessWeek. He is also frequently quoted in publications like the Wall Street Journal and is regularly interviewed on CNBC and BloombergTV. You can follow him on Twitter at @ttaulli.
About Apress Media
With more than 1,000 books in print and e-formats, Apress is the authoritative source for IT professionals, software developers, and business leaders all over the world. Apress provides high-quality, no-fluff content that helps serious technology professionals build a comprehensive pathway to career success. Since 2007, Apress has been part of Springer Science+Business Media, one of the world's leading scientific, technical, and medical publishing houses, enabling global distribution of Apress publications. For more information, please visit http://www.apress.com.
For review copies or to get in touch with the author, please contact: Sadhika Salariya, PR Manager, [email protected], 212-620-8061