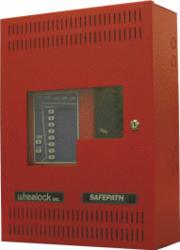 The last thing a business wants is to be unprepared for emergency situations or be held liable for failing to meet safety regulations.
Milwaukee, WI (PRWEB) October 11, 2012
There are many emergencies that industrial and office buildings encounter including fire, medical, security, chemical spills, injuries and severe weather. The Occupational Health and Safety Administration (OSHA) requires employers to use an alarm system to alert employees of necessary emergency action (OSHA) 1910.165. Telcom & Data is pleased to introduce Cooper/Wheelock's SP40S SafePath system, an OSHA approved emergency evacuation product. Cooper/Wheelock SafePath products are used by Department Of Homeland Defense, the US Military, and have been written as the standard in many building and fire codes in the United States.
The SP40S is ideal for both small and large facilities. The SafePath System can be used for general phone paging, messaging, background music delivery as well as emergency voice evacuation. The system comes standard with an on-board digital voice messaging system with 8 standard messages, a hand-held microphone, and a power supply/battery charger. Because the system is OSHA 1910.165 compliant, it does not require reliability inspections every two months or the required spare parts inventory.
When Ricardo Trinidad, President of Telcom & Data, was asked about the SP40S SafePath system, he said, "The last thing a business wants is to be unprepared for emergency situations or be held liable for failing to meet safety regulations. This SafePath system ensures businesses meet the highest safety standards."
For more information on the Cooper/Wheelock SP40S SafePath system, visit Telcom & Data's website or call 1-800-335-0229.
About Telcom & Data
Since 1996 Telcom & Data has been providing thousands of telecommunication solutions to organizations around the world to measurably improve communications. The company is a leader in mass notification and emergency evacuation products. Telcom & Data maintains a network of over 1500 technicians with locations in Chicago, Milwaukee, and Miami.
About Cooper Notification
Cooper Notification, a solution platform of Cooper Industries, is comprised of several businesses with decades of experience and innovation in the development of high quality products and solutions. With the ever present need to protect, alert and inform, Cooper Notification is focused on meeting the growing demand for personnel and property safety. We are the source for notification solutions supporting Fire, Security, Hazardous area, Mass Notification, Voice evacuation and Industrial Signaling applications and operating under the powerful global brands of Fulleon, MEDC, Roam Secure, SAFEPATH, WAVES and Wheelock. For more information, visit the web site at http://www.coopernotification.com.
About Cooper Industries
Copper Industries is a global electrical products manufacturer with 2011 revenues of $5.4 billion. Founded in 1833 Cooper's sustained success is attributable to a constant focus on innovation and evolving business practices, while maintaining the highest ethical standards and meeting customer needs. The Company has seven operating divisions with leading market positions and world-class products and brands, including Bussmann electrical and electronic fuses; Crouse-Hinds and CEAG explosion-proof electrical equipment; Halo and Metalux lighting fixtures; and Kyle and McGraw-Edison power systems products. With this broad range of products, Cooper is uniquely positioned for several long-term growth trends including the global infrastructure build-out, the need to improve the reliability and productivity of the electric grid, the demand for higher energy-efficient products and the need for improved electrical safety. In 2011 sixty-two percent of total sales were to customers in the industrial and utility end-markets and forty percent of total sales were to customers outside the United States. Cooper has manufacturing facilities in 23 countries as of 2011. For more information, visit the website at http://www.cooperindustries.com.