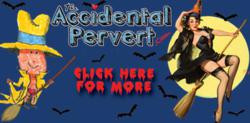 "Enough praise cannot be given" - Broadway World
New York, New York (PRWEB) October 30, 2012
In a promotion specially for the haunting season, Andrew Goffman, writer and performer of The Accidental Pervert, is offering discount tickets for Halloween. He wants theatre-goers to visit downtown New York for Halloween, and watch his play for a special price.
"Halloween is scary, horror movies are scary, but sex shouldn't be!" Goffman says, "I want people to come down and see my show in the Halloween season, and find out how funny sex can be."
The hit off-Broadway play, The Accidental Pervert, runs right in the heart of downtown at the 13th Street Repertory Theatre. Liz Hoffman said the play is "..one of those hidden gems of New York Theatre", and the Halloween promotion will let audiences see the play for a discount price.
Goffman has a thought for everyone for this Halloween - "While everyone is running around in scary costumes, come down to the Accidental Pervert and remember why you enjoyed sex in the first place!"
Customers can use the code BOO to buy tickets online - offer expires 11:59pm, November 1st.
--------------------------------------------------------
The Accidental Pervert is a laugh-filled show with a serious underlying theme. For three years, Andrew has been entertaining sold out crowds with the story of what happened after he found his Dad's stash of adult videotapes when he was eleven years old. He takes the audience on a comic journey through his porninfluenced eyes, to reveal how his exposure to pornogrpahy overshadowed his relationships with women for many years, until he finally became a loving husband and father. The play is also running in Buenos Aires, starring the popular Argentine comic, Cabito.
The show runs every Friday and Saturday night at 7pm at The 13th Street Repertory Company in NYC.
For tickets and more information about The Accidental Pervert, visit http://www.theaccidentalpervert.com