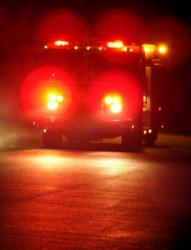 Carbon monoxide is an invisible, odorless, colorless gas that is as much a threat to responding fire crews as it is to homeowners.
CALGARY, ALBERTA (PRWEB) October 04, 2012
As colder weather sets in this fall, tens of millions of furnaces are being called back into service across North America. October is a busy month for SecurTek monitoring station attendants, who always assign a high priority status to carbon monoxide alarms.
Station attendants know lives may depend on rapid intervention by emergency responders, according to SecurTek's Director of Stations Wendy Zaporosky:
"When night falls, especially, our teams know a lot of people depend on us to keep watch over them in their homes. When carbon monoxide alarms are triggered in the middle of the night, our monitoring station attendants know rapid intervention makes a difference."
In the United States, households can expect to average one home fire every 15 years, or five fires in an average lifetime. According to the National Fire Protection Association, one home fire is reported every 85 seconds in the US. In a 2007 report published by the Council of Canadian Fire Marshalls and Fire Commissioners, it was estimated that 73 per cent of all fire deaths in Canada resulted from home fires. Risks of fire casualties in cold-climate regions are particularly heightened when heating systems are reactivated in the fall.
Ask yourself these questions: when was your furnace serviced last? have you changed the filter lately? A dirty filter might result in the heat exchanger becoming hotter, causing cracks through which carbon monoxide could escape to critical area in your home, while you sleep.
"Fire response organizations everywhere recommend the use of carbon monoxide detectors bearing the certifications in effect in their jurisdiction," notes Vito Valentini of Guardian Security Solutions in Calgary. His company installs wired models equipped with battery backups, an essential component of residential security systems. "They will emit an alarm signal when the level of carbon monoxide is high enough to pose a major health risk and poison human beings."
Think of them as a key line of defense in the preservation of safe conditions for life in your home. When coupled with working smoke detectors on every floor of your home, integrated monitored systems ensure that if the alarm goes off, someone notifies the fire department and makes sure responders get to your home -- both when you're not there, and when you are there but unable to call for help yourself.
On November 4, when you set clocks back one-hour around your house, why not use the opportunity to check or replace batteries on all smoke and carbon monoxide detectors in your home. You will be set and safe for winter.
About SecurTek:
SecurTek is a leading provider of monitoring solutions and event related information services through an extensive dealer network and strategic partnerships, for 70,000 customers across Canada. A subsidiary of SaskTel Telecommunications, SecurTek earned the Five Diamond Certification for providing superior monitoring service in the North American security industry, awarded by the US-based Central Station Alarm Association (CSAA). SecurTek monitoring stations are Underwriters' Laboratories of Canada (ULC) certified, meaning SecurTek meets or exceeds the highest industry standards with regards to call overflow, staffing requirements, response procedures, computer systems and backup power systems.  SecurTek offer burglary, commercial, fire, environmental, medical, video and residential monitoring services.