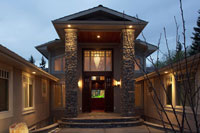 Calgary, AB (PRWEB) October 06, 2012
Not all contractors in the renovations business are willing to submit themselves to an independent survey, as the results can often be far short of flattering. But when the Pinnacle Renovations team elected to participate in an industry-wide survey carried out by Client Insight, they were confident that the results would reflect the high quality of their workmanship.
They weren't disappointed. The survey, which compiled data from over seven years worth of Pinnacle Renovations past clients, returned a 98% referral rating, one of the highest that Client Insight had seen for a custom home builder and renovations contractor in the city of Calgary.
This is a significant accomplishment considering the volume of clients that Pinnacle has had over the years, not to mention the variety of contracts that they make themselves available for. This is not a company that limits themselves to only one type of renovations job. They do custom and luxury home building, as well as individual renovations jobs, and no matter what type of client they were working with, they were met with a very high satisfaction rate.
Paul Klassen, the business owner and manager, is quick to cite the rest of his team in accounting for the company's success. His philosophy is to bring as many fantastic tradesmen, sub-contractors and suppliers into his orbit, as only with a full complement of qualified staff who are genuinely happy to be doing their jobs can a company like his succeed. It is this ensemble cast that makes up the better part of the company, with Klassen in charge of coordinating and directing the groups movements, ensuring that everyone is applying themselves in the right place at the right time.
One of the hallmarks of this Calgary renovations company, and a feature that many of the clients mentioned in the independent survey, was the schedule-conscious nature of the company. Where many hope that their contractors are simply going to stay in business long enough to finish a large project, the Pinnacle Renovations provides their clientèle with a very precise schedule and then goes a step further and actually sticks to it. This is rare, and was invariably appreciated by Pinnacle's clients.
It's the team's ability to make their deadlines and proceed according to a set plan that set them apart in many of their client's minds. But once the job is over, these Calgary renovations contractors don't pack up and walk away for good. They are also very interested in standing behind their work, and offer a three-way guarantee that allows their clients to have peace of mind even after the project is completed.
Receiving a high consumer rating like this has only renewed and reinvigorated Pinnacle Renovations commitment to providing top-quality work for their clients. Now that they have such a glistening and untarnished reputation, they have to work harder than ever to keep it up and to live up to the expectations that their new clients will have based on the company's past results.