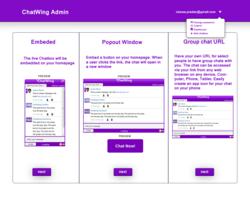 Chicago, IL (PRWEB) October 05, 2012
Based on the numbers of blogs across the Internet, many professionals believe that people can blog about almost anything. With this information, the Chatwing Development Team has decided to release its newest web chat box in the growing automotive community in Webnode. Chatwing's developers believe that the automotive community will reach significant growth before the year ends, due to the trends introduced by thousands of manufacturers.
Auto care blogging is all about the health and properties of a user's car. Auto care bloggers tend to discuss various topics about the mechanisms and modifications of their cars. Chatwing's free chat box can help auto care bloggers reach large groups of people within few days. With this leverage, the bloggers can gather tips and experiences from many visitors. Moreover, they can share helpful information to other people. The average Chatwing chatroom can also accommodate up to 1000 users, emphasizing its communication importance.
Webnode has always been part of Chatwing team's strategic online campaign. This is due to the height of popularity of Webnode. Chatwing's free shout box also saves up the time of the Webnode blogger. The installation time takes only a few seconds, and the application also features a high rate of customization. Users can design the widget that will fit to the theme of their blogs.
Aside from the Webnode auto care niche, the Chatwing team is also vying for other prominent niches. Additionally, the team is also planning to introduce the Chatwing chatbox in other communities as well, such as fashion, gaming and tech forums, financial advice sites, and many more. The Chatwing chat app will also undergo several developments to make it more efficient and reliable, not just for bloggers, but for everyone as well.
About Chatwing.com
Chatwing.com specializes in the new field of website chat. Over years, the Chatwing team has introduced live chat widget for hundreds and thousands of blogs. The Chatwing application bridges people from many parts of the world, creating global synergy through the Internet. The shout box can be installed in just seconds, and it can be used for varying purposes such as leisure and Internet marketing. It also allows a user to customize the size, color, and name of the widget. Chatwing is 100% free for everyone.