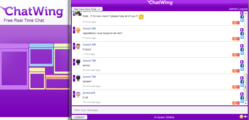 San Francisco, CA (PRWEB) October 05, 2012
Webnode niche bloggers can now utilize the communication leverage offered by the Chatwing chat box. The company has tweaked its strategy in order to help niche bloggers in Webnode attain a new communication experience. The latest Chatwing chat application can be installed in any Webnode blog or website.
Chatwing's free chat box is loaded with important features, such as social media integration, improved website chat experience, easy installation mechanism, and high customization rate. Chatwing's social media integration allows users to log in with their social media accounts. Currently, Facebook and Twitter are the social media sites allowed by the Chatwing application. In the coming months, the Chatwing team is looking forward in adding more login options.
There are thousands of niches to cover in the Webnode community. The Chatwing team believes that all of these niches are important in the field of blogging. The team has also observed that many people prefer Webnode because of the simple yet professional style that it offers. Like Chatwing, a Webnode blog is easy to use and can also be customized greatly. Niche bloggers can also use Chatwing's free shout box to create a stream of online visibility for their blogs. Since the Chatwing chatroom can accommodate up to 1000 users, the bridge of communication is highly reliable.
The Chatwing Development Team believes that Webnode will continue to prosper because of the influx of users from different areas of the Internet. To further help Webnode niche bloggers, the Chatwing team is planning to introduce more useful features in the coming months. This will make the Chatwing chatbox more reliable in many instances.
About Chatwing.com
Chatwing.com specializes in the new field of website chat. Over years, the Chatwing team has introduced live chat widget for hundreds and thousands of blogs. The Chatwing application bridges people from many parts of the world, creating global synergy through the Internet. The shout box can be installed in just seconds, and it can be used for varying purposes such as leisure and Internet marketing. It also allows a user to customize the size, color, and name of the widget. Chatwing is 100% free for everyone.