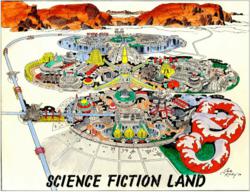 New York, NY (PRWEB) October 08, 2012
Flatbush Pictures launches its Kickstarter campaign today to support the completion of SCIENCE FICTION LAND -- a stranger than fiction documentary that tells the true story behind Ben Affleck's upcoming Warner Bros. release, ARGO.
Affleck's ARGO tells the "true" story of CIA Agent Tony Mendez and how he used a "fake" sci-fi movie as cover to get six Americans out of Tehran. However, this is not the whole story. WHat ARGO leaves out is that Mendez used a real movie script called LORD OF LIGHT, based on the sci-fi bestseller by Roger Zelazny, as well as designs for an epic science fiction theme park.
The team behind this project included "King of Comics" Jack Kirby, creator of The Avengers, the X-Men, and the Fantastic Four; Hollywood makeup and special effects geniuses John Chambers & Maurice Stein (PLANET OF THE APES); legendary sci-fi author Ray Bradbury; and futurist architects, Paolo Soleri & Buckminster Fuller. The team was led by an enigmatic young dreamer from the Bronx, Barry Ira Geller.
As an independent documentary, SCIENCE FICTION LAND includes characters and events that ARGO leaves out and pushes the boundaries of creative storytelling. Our film explores the unbelievable connections between Geller, Kirby, Chambers and the Science Fiction Land team to the rescue of six Americans in Tehran.
With ARGO's release next Friday and big awards season buzz, and New York Comic Con beginning next Thursday, this is the moment for this incredible story to be told. Comics, cons, sci-fi, and spies: there is something for everyone. This is why we are so excited to engage in crowdfunding for funds to finish the film. And the story is gaining traction: Entertainment Weekly just published a great, in-depth piece. Geller was also recently interviewed in the Hollywood Reporter.
SCIENCE FICTION LAND is the latest from two-time Emmy-nominated director, Judd Ehrlich (RUN FOR YOUR LIFE, MAYOR OF THE WEST SIDE, MAGIC CAMP) and his award-winning team. For more information, and to become a part of the conversation, check out our website, Facebook, and Twitter.
For photos, interviews, and more information, please contact:
Ruchi Mital at Flatbush Pictures/Brooklyn Film Networks: ruchi(at)bkfn(dot)org
718.237.9018