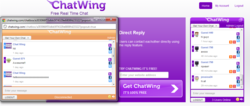 Portland, OR (PRWEB) October 05, 2012
The Chatwing Development Team is now offering its latest website chat box to different blogging communities and online sectors. Chatwing's developers believe that the key to efficient blogging is by utilizing small applications that can accomplish many purposes. Chatwing's simple chat application is geared for many online purposes because of its useful features such as social media interaction and long-term accessibility.
With Chatwing's free chat box, users can now partake in a reliable and effective blog marketing strategy by reaching out to social groups. The average Chatwing visitor can use his Facebook or Twitter account as login options. With this feature, the user can send out invitations. He can then seek out Facebook groups or pages that are highly related to his target niche. A Chatwing chatroom can also handle 1000 users in real-time, creating an efficient stream of communication day by day.
Many bloggers have also used the Chatwing chatbox as a visibility enhancement tool. Because of its communication features, a Chatwing shoutbox has the potential to increase the online presence of a blog by up to 85%. The percentage depends on the activity of the blog and the way the blogger interacts with his visitors. However, the Chatwing team has noted that bloggers who have used the Chatwing app in a regular basis had remarkable improvements for their blogs. Moreover, these bloggers can now gather more story items from their visitors.
Chatwing's developers believe that there are tons of blog marketing strategies that the average blogger can use. Some of these strategies are obsolete, yet most of them are still catching up with the trends. In a general sense, the Chatwing free shout box can ease up a blogger's online concerns and he will be able to gather new friends and acquaintances.
About Chatwing.com
Chatwing.com specializes in the new field of website chat. Over years, the Chatwing team has introduced live chat widget for hundreds and thousands of blogs. The Chatwing application bridges people from many parts of the world, creating global synergy through the Internet. The shout box can be installed in just seconds, and it can be used for varying purposes such as leisure and Internet marketing. It also allows a user to customize the size, color, and name of the widget. Chatwing is 100% free for everyone.