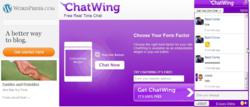 Los Angeles, CA (PRWEB) October 05, 2012
Wordpress plugins, little applications that can improve blogging experience, are now being searched in different areas across the Internet. Since there are thousands of plugins to choose from, the average blogger may get confused and cluttered. The Chatwing Development Team offers a simple form of communication leverage for Wordpress bloggers. This opportunity appears in the form of chat box plugin that specializes in online presence and social media empowerment.
The Chatwing free chat box can be considered as a 'bundle' of online leverages. In a nutshell, the Chatwing app is a micro-chatroom where people can gather and engage in interesting discussions. Through these random interactions, the blog can attain a significant percentage of online visibility. Moreover, the blogger can establish a large subscriber base in the long run. All blogging niches can benefit from the Chatwing opportunity, as well as other online sectors.
Installation of the Chatwing chatbox can be finished in just under a minute. During the installation process, the user can modify the color, size, and title of the widget. In this way, the widget will fit the theme of his blog. The user also gets the chance to add unlimited chat boxes and moderators. Many bloggers have also remarked that the Chatwing chat app can be considered as one of the most reliable Wordpress plugins created.
Chatwing developers believe that plugins are the keys to better blogging in a modern time. To help users gain more communication benefits, the Chatwing free shout box will undergo several developments in the upcoming months. Most of these developments were suggested by bloggers from Wordpress and other communities.
About Chatwing.com
Chatwing.com specializes in the new field of website chat. Over years, the Chatwing team has introduced live chat widget for hundreds and thousands of blogs. The Chatwing application bridges people from many parts of the world, creating global synergy through the Internet. The shout box can be installed in just seconds, and it can be used for varying purposes such as leisure and Internet marketing. It also allows a user to customize the size, color, and name of the widget. Chatwing is 100% free for everyone.