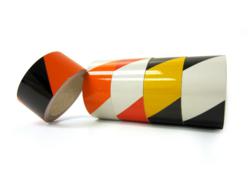 "Accidental falls around steps and bumper scratches to our trucks have drastically decreased since using reflective floor tape. We love it!"
Lake Oswego, OR (PRWEB) October 07, 2012
Businesses, organizations, industrial and manufacturing facilities are using floor tapes instead of paint to mark aisles, pathways, hazard and safety areas, equipment and products because floor tape is much more durable and stronger. Facilities around the nation will receive great benefits from using tape as an alternative to paint as it is easy to apply to all surfaces and there is no dry time, cure time, fumes or production downtime. Floor tape is highly resistant to extreme environmental scenarios indoor and outdoor. Floor tape will not scratch, tear or peel unlike paint under even the harshest truck or pedestrian traffic. Reflective Hazard Floor Tape is just one of a number of new products for any 5s safety program that is now being offered through 5stoday.com.
Reflective Hazard Floor Tape provides the best floor marking tape for 5s programs, lean management, safety programs, and visual workplace areas that perform well under light to heavy duty conditions. This tape also complies with OSHA standards due to the variety of color choices and sizes. Because it is reflective, it is ideal for night time environments such as loading docks. No more bumping into dock posts causing damage to trucks, forklifts and maintenance to posts. It is a great way to mark off steps, stairways and drop offs on the loading docks reducing the amount of accidental falls and slips. Safety numbers will increase along with production making more profit for businesses. A shipping manager of a well known delivery service commented, "Accidental falls around steps and bumper scratches to our trucks have drastically decreased since using reflective floor tape. We love it!"
More information about Reflective Hazard Floor Tape or any 5s or safety products is available by visiting http://www.5stoday.com. Or call toll-free (866)402-4776 for any questions you may have.