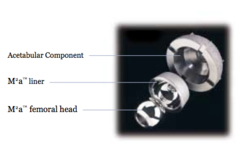 The number of lawsuits will increase because there are already more than 450 adverse events reported to the FDA regarding these devices
(PRWEB) October 05, 2012
On October 2, 2012, the Judicial Panel on Multidistrict Litigation (the Panel) ordered the transfer and consolidation of all federal Biomet M2a Magnum hip implant lawsuits to the U.S. District Court of the Northern District of Indiana before Judge Robert L. Miller, Jr., thereby creating MDL 2391.
The consolidation affected eight pending cases, however the Panel had been notified of 57 additional potentially-related actions. "The number of lawsuits will increase because there are already more than 450 adverse events reported to the FDA regarding these devices," commented attorney David Ennis of Ennis & Ennis, P.A.
The Biomet lawsuits involve alleged negligent design of the Biomet Magnum metal-on-metal hip implants. Plaintiffs allege the metal-on-metal design of the implants cause increased failure rates and the development of metallosis due to metal particles that enter the bloodstream.
Although Biomet is headquartered in Indiana, the Defendants opposed the centralization and transfer to this location arguing: 1) the M2a Magnum hip had not been recalled; 2) several other cases involving these devises had already been resolved; and 3) the M2a device had been comparatively less problematic than similar hip implant products of its competitors.
The Panel, however, disagreed and noted there were common questions of fact and the centralization would avoid duplicative discovery on such complex issues as the design, testing, manufacturing, and marketing of the M2a Magnum system and related motion practice. It further noted the centralization would eliminate duplicative discovery, prevent inconsistent pretrial rulings on discovery and other issues, and conserve the resources of the parties, their counsel and the judiciary.
If you or a loved one has suffered from a Biomet M2a Magnum hip implant, you may be entitled to compensation. Contact the lawyers of Ennis & Ennis, P.A. today for a free nationwide confidential consultation by calling toll free 1-800-856-6405 or by completing an online case evaluation form at http://www.EnnisLaw.com
Ennis & Ennis, P.A. has been representing clients individually since 1986 and has recovered over $100 million in settlements for its clients.
Ennis & Ennis, P.A. is also investigating cases involving Accutane, Actos, Avandia, Fosamax, Pradaxa, Plavix, Paxil/Birth Defect, Zoloft/Birth Defect, Prozac/Birth Defect, Depuy Hip Recall, Zimmer Hip Recall, Wright Conserve Hip, Wright Profemur Hip, all Metal-on-Metal Hips, GranuFlo and NaturaLyte Dialysis Concentrates, Medtronic Infuse Bone Graft, Tekturna, Reglan, Yaz, Yasmin and Ocella Birth Control Pills.