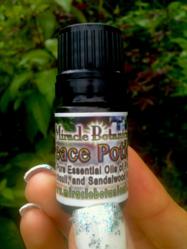 Peace Potion will help one transcend negative thoughts and live in a reality of Love, Peace, and Harmony!
Pahoa, HI (PRWEB) October 04, 2012
Miracle Botanicals, the leader in Reiki charged pure essential oils, is now offering Peace Potion, a Delightful 100% Pure Essential Oil blend. Peace Potion contains pure essential oils known to instill balance, harmony, and well-being in one's life.
Peace Potion is a synergistic blend of Pure Essential Oils, who's respective attributes combine to gently guide one's individual energetic field into alignment with a feeling of Peace. The blend provides relief from stress, anxiety, and depression, while instilling high self-esteem, Inner Peace, and Harmony. Peace Potion may be used as an aromatic tool to provide Psychic Protection by assisting one achieve the ability to recognize false concepts as such. Regular use of Peace Potion will help one transcend negative thoughts and live in a reality of Love, Peace, and Harmony!
The base oil used for this blend is a therapeutic grade East Indian Sandalwood Mysore. The Sandalwood contributes to the calming, grounding, and relaxing properties of the Peace Potion.
The middle note of the Peace Potion is our amazingly deep, Dark Aged Patchouli. Like fine wine, Patchouli's aroma and effectiveness improves with age. Patchouli essential oil is well known for cultivating Abundance, Peace, and Spiritual Growth.
The top note of the blend is the one of a kind 100% Pure Frangipani (Plumeria.) Frangipani essential oil makes for a beautiful top note, as it is one of the most enticing and attention catching scents. Frangipani's purpose is to invoke sub-conscious memories of Paradise, Tranquility, and especially Peace.
General Information:
Botanical Name: Santalum Album
Botanical Family: Sanatalaceae
Derived From: Bark from the Sandalwood Tree
Origin: Mysore, India
Method of Extraction: Steam Distilled
Aroma: Warm, Balsalmic, Musky, Spicy, Rich, Woody
Physical Description: Medium Consistency, Transparent, Yellow Color
Botanical Name: Plumeria Alba
Botanical Family: Apocynaceae
Derived From: Petals from the Plumeria Flower
Origin: India
Method of Extraction: Hydro-Steam Distillation
Aroma: Sweet, Fruity, Floral
Physical Description: Pale Yellow Color, Light Consistency
Botanical Name: Pogostemon Cablin
Botanical Family: Labiatae
Derived From: Leaves from the Patchouli Plant
Origin: Indonesia
Method of Extraction: Steam Distillation from the Leaves
Aroma: Musky, Deep, Spicy, Sweet
Physical Description: Dark Amber-Colored Oil
Indications:
Emotions: Peace Potion very effectively removes stress, worry, nervousness, anger, and anxiety. While doing so, the blend also instills feelings of fearlessness, harmony, balance, and romance. Peace Potion also acts as a powerful antidepressant, as it instills feelings of hope, while uplifting one's mood and relaxing tension.
Skincare: Peace Potion is effectively moisturizing for the skin, as Frangipani essential oil is commonly used by massage therapists to moisturize during massage. The Dark Aged Patchouli contained in the blend is proven to regenerate and rejuvenate new skin cells. Peace Potion is antiseptic, antibacterial, and anti-fungal, which aids in the treatment of skin conditions, such as dermatitis, psoriasis, eczema, and acne.
Physical: Peace Potion may be used for deep cuts and abrasions, as the Sandalwood in the oil assists with the healing of any type of bodily infection and will relieve the body of inflammation. All oils contained in Peace Potion assist with maintaining well-functioning systems throughout the body.
Spiritual: Peace Potion contains high frequency oils which help open the third eye and crown chakras. The blend also helps one attain inner and outer self-awareness. Peace Potion will uplift spirits and nourishes the soul by instilling feelings of abundance, grounding, spiritual growth, harmony, and gratitude!
Chakras Affected:
First Chakra: Root – Peace Potion assists in healing feelings of separation and isolation from others, which often results in feelings of fear, anxiety, and depression.
Second Chakra: Sacral – In the Saral Chakra, all oils contained in Peace Potion act as powerful aphrodisiacs. Peace Potion will also provide assistance with uncertainty, lack of confidence, and bitterness, as Peace Potion disperses negative energies and low self-esteem.
Third Chakra: Solar Plexus – Peace Potion promotes confidence in the Divine Self and instills self esteem! Peace Potion also supports the solar plexus chakra on a physical level by lessening nervous tension and releasing stress placed on the adrenal glands.
Fourth Chakra: Heart – Peace Potion opens the heart to trust and to receiving healing energy. The blend also promotes love in one's life.
Sixth Chakra: Third Eye – In the third eye chakra, Peace Potion quiets mental chatter and promotes a deep meditative state and spiritual wisdom. The blend also allows one to better receive and integrate healing energy!
Seventh Chakra: Crown – Peace Potion calms and quiets the mind to help us become more open to recieving Universal information. Peace Potion contains high vibrational oils which allow higher consciousness to flow through our being and become more in Unity with the Divine!
Colors:
Oil: Yellow to Orange-Amber Color
Etheric: Purple, Orange, Pink, Red, Violet, Green, and Gold
Contraindications: Do not use undiluted on facial skin!