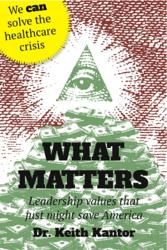 All-natural foods are a common-sense, cost-effective way to fight back the rising rates of arthritis, diabetes, heart disease, hypertension and obesity in the United States.
--Dr. Keith Kantor
Atlanta, GA (PRWEB) October 05, 2012
Just weeks after being published, Dr. Keith Kantor's book What Matters: Leadership Values That Just Might Save America (Effective Press, 2012) is being praised for its timely release and engaging message in light of recent news headlines.
Since the book's September launch, widespread food recalls for products like peanut butter and beef have been issued throughout North America, and debate over genetically modified (GMO) foods has increased. In What Matters, Dr. Kantor discusses how all-natural foods that have been flash frozen and vacuum sealed kill all harmful bacteria, thus preventing any cross contamination and instances of food recalls. Furthermore, Dr. Kantor cites research from the Congressional Budget Office indicating that by eliminating government subsidies for GMO crops, "our country will save more than $3 billion per year now and possibly prevent future health problems."
Throughout What Matters, Dr. Kantor also presents a number of additional cost-saving measures that address the complex relationship between our nation's healthcare system, nutrition, government subsidies and disease prevention.
"All-natural foods are a common-sense, cost-effective way to fight back the rising rates of arthritis, diabetes, heart disease, hypertension and obesity in the United States," says Dr. Kantor. "More and more people are turning toward this movement, especially politicians who are using healthcare savings as part of their platforms for the upcoming election."
He continued, "The book includes the findings of the blue ribbon advisory panel that I recently assembled and chaired. These findings touch on everything from all-natural food and proper dietary supplementation to farm subsidies, medical insurance changes and nutrition education, which can save our country $333 billion per year within 10 years. Our work was taken up in the Congressional Budget Committee, and parts were adopted in the 2012 Congressional budget. Clearly, the book is resonating with both readers and policy makers."
Dr. Kantor recently discussed What Matters' popularity and its no-nonsense, cost-effective strategies to restore America's good health and fiscal soundness as a guest of Kevin Price's on the Price of Business, an award-winning radio program that brings fresh perspectives to national and business news. During his interview, Dr. Kantor also talks about how his knowledge as a doctor of nutritional science and naturopathic medicine, along with his background as an award-winning entrepreneur, innovator, business leader and Marine Officer, have helped him to succeed in business.
What Matters: Leadership Values That Just Might Save America is available now in print and for Amazon e-readers. Net proceeds from the sale of the book are being donated to the American Diabetes Association, The Natural Products Association and the All-Natural Food Council of North America.
About Service Foods
Service Foods offers a full line of all-natural foods free from growth hormones, preservatives, steroids,antibiotics and colorings. The company provides free delivery directly to customers' homes. In addition, dietitians, nurses, doctors, dentists and fitness experts are on staff to counsel clients in leading a healthier lifestyle. Service Foods has been in business since 1981 and is based in Atlanta, Georgia, with warehouses in several states. To learn more about Service Foods, Inc., visit ServiceFoods.com