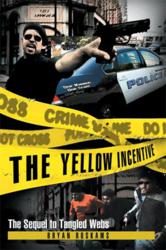 ESSEX, United Kingdom (PRWEB) October 06, 2012
Nearly six years had passed into history since the governments, police forces, and instigators of crime prevention in several prominent countries, including the underworld, had celebrated the fatal shooting, by a police marksman, of the hated criminal Brett Colardo. After coping with the traumatic episode that ended with the death of Shirley Doddington and the criminal schizophrenic Brett Colardo, Peter Doddington and his new love Sophia Andrews took quite some time to get their lives back on track. And after five years, they had just managed to force the whole experience to the back of their minds.
The Yellow Incentive written by Bryan Roskams and the sequel to Tangled Webs continues the story five years after the death of Brett Colardo. His ex-accomplices, who have recently been let out of jail, have discovered that Brett accumulated and stashed away a great deal of money in the shape of gold bars. But they don't know where he hid it. And now, everyone is on the hunt for the gold. Led by Billy Manchett, a hardened psychopathic killer and one of Brett's former cellmates, he seeks the assistance of Snouty Samson and Harry Rimmer both of whom worked for Brett for a considerable number of years, to accomplish their mission of finding Brett's gold bars, with an estimated value of about 350 million pounds. Snouty knew that the people who had direct information regarding the gold bars must have now filtered down to just two people – he and his old mate, Harry Rimmer. Both of them had worked closely with Brett, under extreme duress, but in the process, they had picked up a lot of useful information which perhaps now may prove to be very valuable. However, because Billy had forced himself into the scam, Harry decides to break away with Snouty and makes his own plans to get the gold.
In the meantime, Billy had already begun to get the names and places of the people that were destined to become part of his plan in order to seek out the gold. These names include Peter Doddington and Sophia Andrews, ex-lover of Brett Colardo. Now that Peter and Sophia are both the subject of Bill's wicked plans, they find themselves back in imminent danger. Tony Harman, Peter's best friend thinks that Sophia is entitled to that treasure after all she went through at the hands of Brett. He thought that if Brett's ex-accomplices can look for it, so can they. Tony thinks they have a better chance of finding it to which Peter agreed. Sophia also agreed with them to look for the gold. What other secrets about Brett Colardo will be revealed? Where will this quest for Brett Colardo's gold bars go? Will anyone from them find it? What more danger lurks from within?
The Yellow Incentive is one exhilarating read that promises to deliver more than what readers expects for in a riveting novel. It's a race to the finish line as Peter and Sophia's lives will again be put into imminent danger.
Roskam's sequel to his previous book will make everyone ask for more.
For more information on this book, interested parties may log on to http://www.XlibrisPublishing.co.uk.
About the Author
Author info needed. Bryan Roskams was born in 1931 Served in the Royal Navy, travelling the world in the process.
Married twice and has eight grown up children. Had a variety of jobs throughout his working life including driving instructor, insurance sales manager and retied as an instructor for British gas. A book of poems is imminent.
The Yellow Incentive* by Bryan Roskams
The Sequel to Tangled Webs
Publication Date: September 28, 2012
Trade Paperback; £13.99; 135 pages; 978-1-4797-1026-3
Trade Hardback; £23.99; 135 pages; 978-1-4797-1027-0
To request a complimentary paperback review copy, contact the publisher at +0800-644-6988. To purchase copies of the book for resale, please fax Xlibris at 44-203-006-8880 or call +0800-644-6988.
Xlibris books can be purchased at Xlibris bookstore. For more information, contact Xlibris at +0800-644-6988 or on the web at http://www.XlibrisPublishing.co.uk.