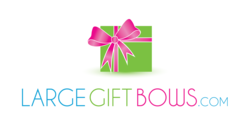 Giant car bows create a holiday atmosphere on an auto sales lot and in a showroom.
Annapolis, Maryland (PRWEB) October 05, 2012
In anticipation of the marketing and promotional needs of automotive dealerships for the Holiday 2012 car-buying season, LargeGiftBows.com has expanded its sales network. The company now has offices in Memphis, Tennessee; Annapolis, Maryland; and throughout Southern California to provide improved service and faster order fulfillment.
LargeGiftBows.com has shipped thousands of large car bows across the US and Canada where they have been displayed at Lexus, Ford, Infinity, Porsche, and Cadillac dealerships. LargeGiftBow.com's products have also been used for grand openings and ribbon-cutting ceremonies.
Additionally, the super-sized bows been seen on TV with appearances including Live with Regis & Kelly, and they've 'starred' on Broadway in such shows as The Wedding Singer and Martin Shorts Fame Becomes Me. "Our bows are visually dynamic and very, very attractive," says Bobbi Moore, spokesperson for LargeGiftBows.com.
The Right Atmosphere to Close the Sale
LargeGiftBows.com understands the challenges car dealers face and works with them to improve their promotional and marketing efforts, as well as their sales figures. "Giant car bows create a holiday atmosphere on an auto sales lot and in a showroom," says Moore. "They make people feel special, provoke cheerful conversation, and in a tasteful and memorable way position every vehicle as a gift suggestion."
Moore notes that by offering complimentary bows with the purchase of vehicles, many dealerships are able to distinguish themselves in the highly competitive automotive marketplace. "We've had dealers say that the customers will buy a car only if they throw in the bow that's on display on top," Moore says.
Up to 10% of December Car Sales Will Be Gifts
December is traditionally been a slow month for dealers, except for the week between Christmas and New Year's Day, when many workplaces are closed and buyers look to snap up deals on model-year close-outs. Now, the zero-percent financing and other deals seem to be driving more pre-holiday business. As a result, gift sales make 5-10% of December sales, according to industry experts.
In 2011, the December to Remember campaign gave Lexus buyers good deals on autos, but also a big, red bow for free. As a result, December proved to be one of the busiest months of the year for the luxury car manufacturer.
A Stress-Free, High-Quality Sales Booster
At LargeGiftBows.com, the goal is to provide stress-free sales support for auto dealers at holiday time and year round. The company offers discount pricing for quantity purchases, as well as offer specials for car dealers and retail stores. "We're aggressive on our pricing to help keep our customers in the black," explains Moore.
Bows and banners are shipped securely in a 200-pound test box with reinforced glue tape to ensure safe arrival. "Additionally, our Standard and Express delivery options ensure that even last-minute graduation or birthday gifts can get the bow they deserve."
LargeGiftBows.com products require no assembly. Bows attach easily with a soft rubber suction cup that will not scratch the gift to which they are adhere. "You may need to moisten the suction cup to have it adhere well to the car," explains Moore. "However, you can also tie the bow with the string at the back to wherever you want the bow to be mounted."
Made in the USA & Made to Last
Despite the big ticket items they adorn, LargeGiftBows.com bows and banners themselves are modestly priced. "We are thrilled that we were able to find an American manufacturer that was able to work with us to create a quality product that anyone can afford," says Moore.
All LargeGiftBows.com products are handcrafted to order in choice of color or color combinations using the highest quality waterproof ribbon. "Our 12-inch bows will last for months outdoors," reports Moore. Larger bows can be used outdoors for extended periods, too, but the loops my may need to be fluffed after hard rains. If the bows are placed in direct sunlight during hot summer days, fading will occur after around 3 months." This is especially meaningful when the bows are used in a promotional setting.
Girl Power
LargeGiftBows.com is an all-female company, powered by a nationwide network of single moms and other women getting back into the workforce. The effect success has had on their lives has been transformative. "It's impossible not to enjoy yourself when you deal in pretty things all day long and get feedback from happy customers about how much they love our products when they see them," explains Moore.
For these women, the work, itself, is the greatest gift of all.
For more information about LargeGiftBows.com, to browse our online catalog, and to place your holiday 2012 order, please visit http://www.LargeGiftBows.com or call toll-free at 1-800-426-1745.
About LargeGiftBows.com
LargeGiftBows.com is an online retailer specializing in oversized gift bows and banners for private gift-giving and commercial use. The bows, banners, and ribbons are all made in the USA. They are appropriate for cars, R/Vs, boats, homes, and other big-ticket items, as well as promotional events. For more information about LargeGiftBows.com, to browse our online catalogue, and to place your holiday 2012 order, please visit http://www.LargeGiftBows.com or call toll-free at 1-800-426-1745.