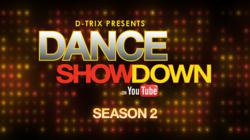 We are taking the success of Season One and adding mainstream talent from network TV dance related shows to create quality content that rivals the TV viewing experience, said Amanda Taylor, CEO of DanceOn.
Los Angeles, CA (PRWEB) October 05, 2012
The first and largest dance entertainment network online, DanceOn, announced it will premiere Season Two of 'D-trix Presents Dance Showdown', the dance competition show on YouTube that garnered over 10M views in Season One this past April, today at 9 AM PT / 12 PM ET. DanceOn also revealed a stellar lineup of mainstream stars Joey Fatone ('Dancing with the Stars', formerly of 'N Sync) and Emmy-nominated choreographer Laurieann Gibson as judges. Viewers can tune in by visiting: http://bit.ly/UkpuIn
'D-trix Presents Dance Showdown' Season Two contestants and YouTube stars Alphacat, Andrew Garcia, BrittaniLouiseTaylor, Chester See, Chimneyswift11, ExoticJess, meghanrosette, Miss Hannah Minx, ONLYUSEmeBLADE, PrankvsPrank, StilaBabe09, and Screen Team will be paired with world-renowned dancers as they compete head to head for up to $100K over the course of 11 weeks. Season One of 'D-trix Presents Dance Showdown' debuted as DanceOn's first series from YouTube's original programming initiative.
During the first round of performances, the YouTube stars will be critiqued by celebrity judges Joey Fatone and Laurieann Gibson, and rotating guest judges Ryan Higa, Dave Days, and Shane Dawson. The two contestants with the highest judges scores will move on to the second and final round. Online viewers will cast their votes for two more contestants to move on to the finals. After the final four performances, the contestant with the highest judges score will receive the "Judges Award," while the contestant with the highest number of online votes will receive the "Audience Award." The ultimate Dance Showdown Champion will be the contestant who takes both awards home .
The show's choreography will be overseen by 'So You Think You Can Dance,' 'American Idol,' and 'X Factor USA' alum, Tessandra Chavez, who will serve as Supervising Choreographer. DanceOn welcomes professional dancers Lauren Froderman (SYTYCD Season 7 winner) from 'D-trix Presents Dance Showdown' Season One along with Anze Skrube, nine-time gold medalist at the Slovenian National Championship, Brinn Nicole, who most recently was on Snoop Dogg's world tour, and MTV's 'America's Best Dance Crew' finalist, Mike Song.
"With Dance Showdown, we are proving that the dance competition format not only works, but can thrive online," said Amanda Taylor, Founder and CEO of DanceOn, "We are taking the success of Season One and adding mainstream talent from network TV dance related shows to create quality content that rivals the TV viewing experience and activates social engagement. We couldn't be more excited to give our fans more of what they loved from Season One."
DanceOn has partnered with Just Dance 4, the latest installment in the hugely popular dance game franchise,' as a sponsor.
Season One premiered on April 8, 2012 and featured Emmy Award-Winning choreographer duo, Napoleon and Tabitha D'umo, 'So You Think You Can Dance' finalists, Lauren Froderman and Kherington Payne, Beyonce's choreographer, Byran Tanaka, dancing phenomenon, Ian Eastwood and YouTubers GoodNeighbor, HotForWords, ItsKingsleyBitch, JLovesMac1, ObamaGirl, Lana Mckissack, Hannah Hart (MyHarto), SeaNanners, Tay Zonday, WhatsUpELLE, xJawz, with WoodysGamertag scooping the championship title and taking the $25K cash prize. The Dance Showdown Season One trailer also attracted more than 1.5M views in its first week while episodes and ancillary content averaged over 800K views weekly. Season One was also hailed as "a reality dance competition that's better than what you see on TV" by LA Weekly.
About DanceOn
DanceOn (http://www.youtube.com/danceon), the world's first and largest entertainment network for dance online, was founded in the fall of 2010 by Amanda Taylor and celebrity partners including Madonna, Guy Oseary (Principle of Untitled Entertainment), and Allen DeBevoise (CEO of Machinima). DanceOn is one of the fastest growing networks on YouTube having garnered over 300M views in the network with 1.4M subscribers and 100M views in the channel.
About Ubisoft:
Ubisoft is a leading producer, publisher and distributor of interactive entertainment products worldwide and has grown considerably through a strong and diversified line-up of products and partnerships. Ubisoft has offices in 26 countries and has sales in more than 55 countries around the globe. It is committed to delivering high-quality, cutting-edge video game titles to consumers. For the 2011-12 fiscal year Ubisoft generated sales of €1,061 million. To learn more, please visit: http://www.ubisoftgroup.com.
Media Contact
JJPR – Jocelyn Johnson
jjohnson(at)jjdigitalpr(dot)com
347.389.5577