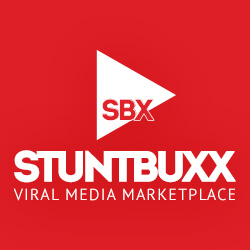 We are putting the final touches on a concept that is going to revolutionize interactive, crowdsourced advertising
Vancouver, B.C. Canada (PRWEB) October 05, 2012
Details are being closely guarded, but it was learned today that Stunt Buxx Interactive Media Ltd., is in final preparations to launch Stunt Buxx 2.0, a visionary worldwide Viral Media Marketplace in which a large global community of players will challenge each other to compete in fun or socially conscious "Change the World" challenges, as well as challenges for raising publicity and funds for worthwhile causes, and even challenging celebrities to instant endorsement deals.
Reached for comment, Stunt Buxx co-founder and CEO, Ryan Bennett, was tight-lipped about the company's plans. "I'm not sure how you found out about this.", Bennett said. "All I'll say at this point is that we are putting the final touches to a concept that is going to revolutionize interactive, crowdsourced advertising. We've amassed a large, loyal Stunt Buxx following that is eager to take interactive media challenges to the next level, so we're going to bring them something bigger, better, and more exciting than they've ever seen."
Stunt Buxx quickly garnered a reputation earlier this year by delivering their flagship product; An Online Game Show, which was all about "instant gratification" as they called it, or daily cash payouts, to 55 challenge winners totaling over $11,000 in just its first six weeks of launch. Rumors are swirling that Stunt Buxx 2.0 will continue to reward challengers with cash and merchandise sponsored challenges and weekly prizes.
In what could be a related story, Stunt Buxx recently released a video trailer on both their website and social media sites promoting a companion web series called, "The Ultimate Urban Rebel".
"The Ultimate Urban Rebel was a pilot for a live web series we shot in August, 2012.", Bennett confirms. "Eight contestants battled each other through a series of intense skills challenges, such as extreme eating and endurance, grappling with a real life black belt, and even shirtless paintball, all done in front of a live audience, to crown The Ultimate Urban Rebel".
When asked why Stunt Buxx wouldn't confirm details of their Stunt Buxx 2.0 launch plans, Bennett at first refused comment and headed for the nearest exit. After conferring with a Stunt Buxx executive, Bennett returned.
"Okay, here it is. In a very short time Stunt Buxx captured the imaginations of people worldwide and got them excited about challenging themselves, getting off the couch, grabbing a camera and getting creative while rewarding them instantly with cash and merchandise for their efforts. "We're taking what we learned in our beta launch and adding some new "blow your mind" elements that will position Stunt Buxx as the world's #1 Viral Media Marketplace." And that's all I'm going to say about that. You'll just have to wait and see what we come out with like everybody else. In the meantime, you may check out the teaser trailer to the reality show we just shot on our home page, and we are releasing the first segment of our new web series tomorrow at 5pm (PST) on our You Tube Channel.'
The Stunt Buxx Facebook page at http://www.facebook.com/StuntBuxx has just been updated with a message stating that Stunt Buxx 2.0 is coming soon. More details as they are released.
Stunt Buxx website: http://www.stuntbuxx.com
About Stunt Buxx
Stunt Buxx is a Viral Media Marketplace - where it pays to share. CEO and Co-Founder Ryan Bennett has a degree in filmmaking but caught the internet bug in 1999 and never looked back. He is currently president of Little King Media, acting as an SEO consultant and content strategist for blogs and internet ventures.