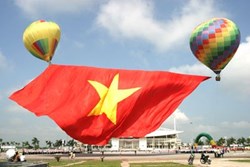 Every new updates on interesting tours will be posted so that users can browse and get it any time
(PRWEB) October 05, 2012
From 1st June, Vietnam-airline.org has officially signed in face-book community. It is that 90% of the customers are using face-book as their daily contacts. With the aim of approaching more and more customers, the website is available to supply useful information including trip booking, route map, fare types, travel documents, baggage, and so on. This will be easier and more convenient for customers to get updated news they need. Indeed, it introduces Vietnam tourist attractions with the beauty of culture, cuisine, people, customs, festivals, religions, and sceneries. Just clicking like, people can have the whole information updated on their homepage every day without searching for a long time.
Apart from providing information, it mainly focuses on supporting customers book cheap tours with the best and effective service. Every new updates on interesting tours will be posted so that users can browse and get it any time. Especially, Vietnam-airline.org, acting as the online booking center, offers tourists a discount of 30-50% for their fare if they choose round trips and multiple destinations in Vietnam. This will be applied for those who book the trip 1 month prior to the flight. Besides, tourists can get free to make visas if they book tours, hotel, and flight tickets on the website. Children also have chances to get some free services as well as many other great deals.
At present, Vietnam Airlines is carrying out some new domestic discount packages to stimulate the market. For the domestic tourism market, this program provides various destinations, tours with saving cost and good quality. Get access to the website now to have opportunities to get such big offers on face-book.