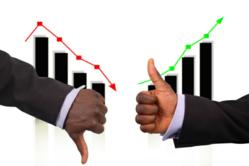 "The durable goods number is notoriously volatile month-to-month. To get a better perspective, one should look at the yearly numbers," says Cekerevac. "New orders for durable goods are up 5.5% year-to-date."
New York, NY (PRWEB) October 07, 2012
In a recent Investment Contrarians article, financial expert and editor Sasha Cekerevac reports that the latest data from the Commerce Department's durable goods report reveal that total orders for durable goods in the month of August fell 13%. Cekerevac notes that businesses have responded by holding off on increasing capital expenditures due to economic uncertainty, which is, in turn, holding back jobs growth.
According to Cekerevac, this report was not a surprise: "While it may be a hit to investor confidence, the truth is that economic growth has been slowing," he says. "… The main concern is the 'fiscal cliff.' The more people talk about the fiscal cliff and the more inaction by Congress, the less likely it is that businesses will expand."
Jobs growth will continue to lag, as businesses have to adjust their projections of what is attainable with the currently declining economic growth, reasons Cekerevac.
"The durable goods number is notoriously volatile month-to-month. To get a better perspective, one should look at the yearly numbers," says Cekerevac. "New orders for durable goods are up 5.5% year-to-date."
The Investment Contrarians editor notes that these numbers suggest that, while the underlying economy is weak, it is not dead. If the fiscal cliff is averted, Cekerevac reasons that a lot of pent-up business demand and capital expenditures will start to feed into the overall economic growth for the country. However, if a deal does not come to fruition, economic growth will plunge next year, he concludes.
To see the full article and to get a real contrarian perspective on investing and the economy, visit Investment Contrarians at http://www.investmentcontrarians.com.
Investment Contrarians is a daily financial e-letter dedicated to helping investors make money by going against the "herd mentality."
The editors of Investment Contrarians believe the stock market and the economy have been propped up since 2009 by artificially low interest rates, never-ending government borrowing and an unprecedented expansion of our money supply. The "official" unemployment numbers do not reflect people who have given up looking for work and are thus skewed. They believe the "official" inflation numbers are also not reflective of today's reality of rising prices.
After a 25- to 30-year down cycle in interest rates, the Investment Contrarians editors expect rapid inflation caused by huge government debt and money printing will eventually start us on a new cycle of rising interest rates.
Investment Contrarians provides unbiased research. They are independent analysts who love to research and comment on the economy and investing. The e-newsletter's parent company, Lombardi Publishing Corporation, has been in business since 1986. Combined, their economists and analysts have over 100 years of investment experience.
Find out where Investment Contrarians editors see the risks and opportunities for investors in 2012 at http://www.investmentcontrarians.com.
George Leong, B. Comm., one of the lead editorial contributors at Investment Contrarians, has just released, "A Problem 23 Times Bigger Than Greece," a breakthrough video where George details the risk of an economy set to implode that is 23 times bigger than Greece's economy! To see the video, visit http://www.investmentcontrarians.com/press.