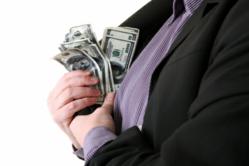 "Retail sales are showing improvement," says Leong, "but consumer spending on durable goods was horrible in August, when spending on non-essential goods and services cratered at -13.2%, versus the -5.0% estimate and the -4.1% in July."
New York, NY (PRWEB) October 08, 2012
In a recent Investment Contrarians article, editor George Leong notes that while a recent study showed that those with a net worth of at least $25.0 million tend to spend more lavishly, America as a whole needs to spend and drive consumer spending. Leong reports that the income gap between the top one to five percent of income earners and the other 95%–99% is widening, and this is the demographic that needs to be spending to jumpstart the economy; otherwise, this widening income gap will continue to stall economic recovery.
"Retail sales are showing improvement," says Leong, "but consumer spending on durable goods was horrible in August, when spending on non-essential goods and services cratered at -13.2%, versus the -5.0% estimate and the -4.1% in July."
According to Leong, the poor reading indicates hesitancy in consumer spending on non-essential goods and services that is a key component of a healthy and growing economy. When consumers refrain from buying non-essential goods and services, it shows a lack of confidence in the economy, thereby affecting consumer spending, he explains.
The Investment Contrarians editor reports that the decline in durable goods was the biggest decline since the January 2009 recession period. He also notes that the second-quarter GDP growth (third estimate) reflected the current stalling in U.S. consumer spending, as the growth of 1.3% was well below the estimate of 1.7% and represented the slowest rate of growth since the third quarter of 2011.
Leong reasons that while the top one percent of income earners continues to spend lavishly, they will not be able to ignite the U.S. economy alone; this falls into the hands of the other 95%–99%. This is the problem that needs to be addressed, concludes Leong.
To see the full article and to get a real contrarian perspective on investing and the economy, visit Investment Contrarians at http://www.investmentcontrarians.com.
Investment Contrarians is a daily financial e-letter dedicated to helping investors make money by going against the "herd mentality."
The editors of Investment Contrarians believe the stock market and the economy have been propped up since 2009 by artificially low interest rates, never-ending government borrowing and an unprecedented expansion of our money supply. The "official" unemployment numbers do not reflect people who have given up looking for work and are thus skewed. They believe the "official" inflation numbers are also not reflective of today's reality of rising prices.
After a 25- to 30-year down cycle in interest rates, the Investment Contrarians editors expect rapid inflation caused by huge government debt and money printing will eventually start us on a new cycle of rising interest rates.
Investment Contrarians provides unbiased research. They are independent analysts who love to research and comment on the economy and investing. The e-newsletter's parent company, Lombardi Publishing Corporation, has been in business since 1986. Combined, their economists and analysts have over 100 years of investment experience.
Find out where Investment Contrarians editors see the risks and opportunities for investors in 2012 at http://www.investmentcontrarians.com.
George Leong, B. Comm., one of the lead editorial contributors at Investment Contrarians, has just released, "A Problem 23 Times Bigger Than Greece," a breakthrough video where George details the risk of an economy set to implode that is 23 times bigger than Greece's economy! To see the video, visit http://www.investmentcontrarians.com/press.