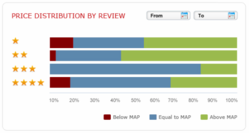 This will step change the way product owners see and manage their world.
London (PRWEB) October 05, 2012
The Internet has empowered consumers in a way that has never happened before, enabling them to compare products and services from different providers instantly and without the hassle of shopping around. This has lead to a real revolution in value based shopping where hunting down the best product and price is a game to be played by all using tools like Google Shopping.
At the same time there has been seen huge growth in social media as a platform to communicate with friends and manage relationships. Interestingly though, when it comes to product and purchasing advice consumers more often trust the independent views of others outside their social networks. This has given rise to product performance being discussed in forums with complete strangers and people leaving reviews of products on retail and comparison sites for others to benefit from.
Major retailers like the UK's John Lewis or USA's Macys are now embracing this buying-community by encouraging consumers to leave feedback and star ratings for all their purchases. For the retailer this builds on their customer experience while giving the consumer confidence they are making the right purchase decisions. Stand alone sites like reviewcentre are also giving consumers the opportunity to leave their views on all their recent product purchases.
The issue for product manufacturers is they can no longer control the PR and stories surrounding their products, so they need fast feedback on reviews of newly launched products and to keep tabs across all existing portfolios. However, this is a complicated process, especially if you also want to understand the links between reviews and price discounting patterns in the market. But a new service is now here to help.
Competitor Monitor has always had a strong reputation in online price monitoring for retailers. The new Product Review Service is designed to meet the exact needs of manufacturers who want to track product portfolios and manage the quality and price they charge through distribution channels. The service enables manufacturers to define the products they want to track, the review sites they care about and the distributors in their network. The system then pulls all the review and pricing data together for all products and analyses the data, providing results and reports via a portal.
The intelligent new service triggers instant alerts to the manufacturer when new reviews are found giving them early warnings of action that may need to be taken. Advanced search and display options provide the ability for users to filter for the product lines they manage and analyse reviews broken down by star rating. In order to help manufacturers understand if any correlation exists between reviews and pricing, Competitor Monitor also provide advanced analytics in the form of graphical displays which highlight the percentage of products above and below RRP at each star rating.
Commenting on the new service Competitor Monitor's James Mishreki said "This will step change the way product owners see and manage their world. For the first time they will have a real-time perspective of consumer views across all their products and be able to see the distributor price impact that positive or negative sentiment has. This will allow swift response in order to fix product issues, change retail pricing strategies or manage perception with recovery communication."
For a demonstration of Competitor Monitor's new product review service visit http://www.competitormonitor.com