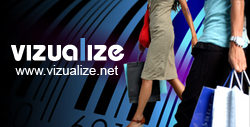 We are very pleased with the results and it demonstrates that we continue to remain at the forefront of the industry for shopper tracking technologies
(PRWEB) October 07, 2012
Vizualize's 3D people counter delivers industry leading shopper traffic counting accuracy for shopping malls and retail stores. Over a series of independently validated stress tests, Vizualize's 3D people counter achieved accuracy levels of greater than 99%.
"We are very pleased with the results and it demonstrates that we continue to remain at the forefront of the industry for shopper tracking technologies," says Michael MacMillan Vizualize CEO.
The release of the 3D people counter will be followed by its new embedded and appliance-based infrared 3D sensor (3IRD) in Q4 2012. Vizualize's 3D people counter is set to be the first release in the Company's 3D real-time store monitoring product range including traffic counters, path and dwell time monitoring, measurement of product interactions and analysis of staff service levels. The 3D range will further extend Vizualize's award winning Visible Intelligence Platform, currently used by over 150 leading global retailers and mall operators.
About Vizualize:
Vizualize's solutions deliver key insight into shopper activity and the path to purchase, allowing retailers to make smarter decisions to acquire, convert and retain more customers. Its solutions bring together leading-edge sensors, intelligent appliances, software and analytics to enhance business performance.
With Vizualize, managing the retail environment becomes a sophisticated approach to tracking and measuring consumer interaction and engagement. The result is higher returns on infrastructure, human resource and marketing investments and improved visitor-to-customer conversion rates for its clients.
Vizualize tracks over 2 billion shoppers annually and its solutions are installed in more than 40 countries. Its clientele include over 150 leading global retailers and mall operators.
For more information, please visit our website at http://www.vizualize.net.