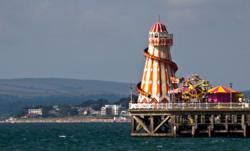 The recent steep rise in new companies should stimulate the economy and improve the tourist offering still further.
UK (PRWEB UK) 16 October 2012
Bournemouth: Bournemouth has seen a dramatic rise in number of new company registrations during the first half of the year, according to statistics released by company formation agent Duport.co.uk. There were 820 new company registrations during the period, a rise of 19.5% compared with the previous year's figures. More information on company formation is contained in the full report.
Bournemouth's economy relies on the service sector, although in more recent years the town has seen significant growth in other sectors, including financial services and the public sector.
Tourism is hugely important to the town, with an average of 4.7 million visitors each year. Last month, plans were announced by the local Business Improvement District (BID) team to make the town even more tourist-friendly. These plans are funded by local businesses and investors, and include a Christmas ice-rink and a Family Adventure Weekend.
"Bournemouth has a thriving town centre but it can also be more thriving," said Gregg Dunnett from the Bournemouth Town Centre BID.
"All town centres and all high streets are facing difficult times because of the double dip recession, they have also been affected dramatically by out-of-town and internet shopping".
Managing Director of Duport.co.uk, Peter Valaitis said:
"Bournemouth is a significant location for tourism, and it is likely that many of the new businesses setting up here will be linked to the tourist trade.
"The recent steep rise in new companies should stimulate the economy and improve the tourist offering still further."
The Duport Business Confidence Report for Bournemouth gives a valuable overview of the economy of the area, with data on everything from company formation to business naming trends. Reports are published quarterly by Duport.co.uk for each area of the UK.
Duport Business Confidence Reports are generated and released by Duport Associates Ltd. The data contained in these reports is assimilated and analysed by Duport using public record data from sources including Companies House, Office for National Statistics and Ordnance Survey. Duport Associates Ltd is a leading UK company formation agent, established in 1997 and registering around 10,000 new companies each year through its Companies House approved software.