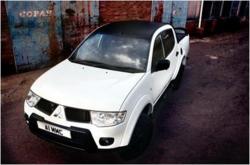 (PRWEB UK) 5 October 2012
The VAT benefits to qualifying business customers of using a pick-up are clear enough; while company car drivers can save on company car tax thanks to the flat rate of £3000 benefit in kind, giving rise to £600 company car tax (20%) or £1200 (40% tax payer).
But now there may be another reason to choose one model in particular; Mitsubishi has given the L200 what it claims is the best warranty in the pick-up market.
The cover lasts for five years or 125,000 miles, depending on which comes first, although only engine and other drive-train components are covered in the last two years. The warranty is, however, transferable to the second and subsequent owners of the vehicle – which will help with resale on the secondhand market. The offer applies to retail and business sales, as well as some contract hire agreements.
Long warranties of this type have previously only been provided by Kia (seven years) and Hyundai (five years, unlimited), but these companies aren't active in the pick-up market. Vauxhall offers a lifetime warranty but this applies only to its cars. Commercial vehicles are excluded.
As well as the new five-year warranty, Mitsubishi is currently offering deals such as fixed price servicing and 0% financing on L200 models.
There's no word yet on whether Mitsubishi will start offering more generous warranties on its mainstream car range.
Get some business car advice to see if you qualify to claim back the VAT. If you do, and if your business needs a pick-up, this is a cost-effective addition to a small fleet.