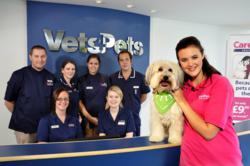 "Choosing the right vet for Pudsey is so important, especially as he's such a talented dog. Having a caring professional team looking after him and helping to keep him in tip top condition is essential, that's why we chose Vets4Pets", said Ashleigh
(PRWEB UK) 7 October 2012
Vets4Pets, the national network of veterinary practices, is delighted to announce that the much loved winners of Britain's Got Talent 2012, Ashleigh and Pudsey, are going to partner them to help raise awareness of the importance of preventative pet healthcare.
"Ashleigh and Pudsey are the ideal partners for Vets4Pets", said Mike Hopkins – Vets4Pets Group Marketing Director, "they exemplify everything that is good about pet ownership. Ashleigh clearly adores Pudsey and her number one priority is to care for the health and welfare of Pudsey, which is why the nation loves them both. Vets4Pets' priority is to help keep pets healthy and happy, so this is a perfect partnership".
Ashleigh began training dogs from the age of 5 and the years of dedication and training eventually paid off, as Pudsey became the first dog in England to be an agility champion and top in canine freestyle. Convinced that Ashleigh could take her talent further than the muddy fields and rosettes of local competitions, it was Ashleigh's Mother and Grandma who filled in the Britain's Got Talent application form, convincing her that she should give it a shot. The rest as they say is history.
"Choosing the right vet for Pudsey is so important, especially as he's such a talented dog. Having a caring professional team looking after him and helping to keep him in tip top condition is essential, that's why we chose Vets4Pets", said Ashleigh, "They love him just as much as I do".
Ashleigh and Pudsey will be helping Vets4Pets to raise the awareness of responsible pet ownership and promote the importance of preventative pet healthcare. "With nearly 13 million pet owning households in the UK*, it is essential that our pet loving nation understand the importance of preventative healthcare and that they visit the vets with their pets on a regular basis." said Mike; "Our national network of veterinary practices, all run by experienced and hugely dedicated veterinary professionals, provide the same high level of pet healthcare you would expect for yourselves, at affordable prices. Details of our national network and the services we offer can be found by visiting http://www.vets4pets.com "
Despite their increasingly busy schedule, Ashleigh and Pudsey will most definitely be finding time to visit their local Vets4Pets practice on a regular basis. At the end of the day she is a girl who loves her dog and whose dog loves her.
Notes to the editors

Vets4Pets was founded in 2001 by CEO, Peter Watson, as a new concept in veterinary healthcare. The company is committed to delivering first class service and high standards of care in their national network of small animal veterinary practices. It achieves this through joint venture partnerships with experienced veterinary surgeons and ambitious veterinary professionals.
Each Vets4Pets practice offers a comprehensive range of treatments from vaccinations, neutering, general healthcare and advice to the more specialised services of intensive care medicine and surgical procedures
The two National Support Centres which provide support to 83 Vets4Pets practices across the UK are based in Guernsey and in Nottingham and currently employ over 70 full time personnel.
The Vets4Pets team aim to offer clients and their pets the same consistent high quality healthcare we expect for ourselves, at affordable prices.
Details of all practice locations and the services they offer can be found by visiting vets4pets.com
Preventative pet healthcare includes all of the regular check-ups and treatments necessary to help keep pets in a healthy and happy condition. These include regular full health assessments, vaccinations and annual boosters to protect pets against common life threatening diseases, regular flea, tick and worm treatments, dental and weight checks etc.
* PFMA 2012 Statistics
Image 1: Ashleigh and Pudsey meeting the team at their local Vets4Pets practice
Address:
Vets4Pets Ltd, Support Centre, Les Merriennes, St. Martins, Guernsey, GY4 6NS
Telephone:
01481 213 211
Email:
marketing(dot)team(at)vets4pets(dot)com