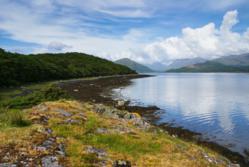 Escape to the Ferry House on the shores of Loch Creran
London (PRWEB) October 09, 2012
Roaring Pavilion THEE Divine Villa - Jamaica (Dr No)
Don on that suit and recreate the ultimate Bond movie moment by emerging from the waters Ursuala Andress style on a beach above where one of the world's finest villas is situated. Famously the location of "Dr No" this luxury hideaway will pamper you with its house world class spa and team of dedicated staff which includes a spa attendant and dedicated chef. The villa offers state of the art technology that would impress the likes of Q himself and features over 1000 square metres of living space, 5 bedrooms and furnishings by Donghia, Philippe Starck, Christian Liagre and British Khaki. This sophisticated villa is sure not to disappoint.
Punta Cala di Volpe - Sardinia, Italy (The Spy Who Loved Me)
Head to the prestigious Punta Cala di Volpe in Sardinia and soak in the sights of the magnificent bay that 007 infamously visits in the "The Spy Who Loved Me". Standing on a promontory that dominates the bay, this stylishly furnished villa includes a spacious covered pergola with a sitting area and a dining table for 10. Spend the day on sandy beaches or the course of the famous Pevero Golf club and marvel at the twinkling lights of the yachts in the evening which make for a simply beautiful scene.
QV22542 - Villefranche Sur Mer, France (Never Say Never Again) (GoldenEye)
Get to work on your poker face and gamble with luxury at Villa QV22542 which is dramatically positioned on the cliffs above this scenic coastline between Nice and Monaco. A stylish elevator will whisk you up the rock-face to the entrance while inside a glass wall separates the swimming pool and the living area, making this villa the ultimate in chic. Indulge in a night out at one of the most glamorous Bond locations, the Casino Monte Carlo seen in both "Never say Never Again" and more recently "GoldenEye".
Amazon Creek, Chamonix (The World Is Not Enough)
There is no end to Bond's talents, Skiing featuring quite high on his list of accomplishments has resulted in some nail biting chase sequences, much like the one in "The World is not Enough" filmed in Chamonix. Chalet Amazon Creek is set in one of Europe's leading winter sports destinations encased in woodland and tranquilly set next to a mountain stream. This 5 bedroom villa not only has a cinema room and wine cellar but comes fully equipped with a luxury spa with hamman steam room, sauna and sunken Jacuzzi luxurious enough to make any bond girl weak at the knees.
Villa Padma, Phuket, Thailand (The Man With The Golden Gun)
Head to Villa Padma, on the east coast of Phuket mere minutes from the stunning Phang Nga Bay home to the notorious "Man with the Golden Gun". This elevated villa is the perfect tranquil escape and features a 25-meter pool with submersed beds; water fringed sunken sala and extravagantly sized bedrooms. So whether you're escaping a golden bullet or the daily 9-5 this luxury ocean front villa is sure to delight and spoil.
The Ferry House, Loch Creran (Skyfall)
The Sky's the limit! Escape to the Ferry House on the shores of Loch Creran, enjoy spectacular views of the surrounding highlands and lose yourself in nature's natural playground. This cosy home is decorated in a natural yet chic and modern fashion and whatever the weather will keep you toasty with it's under floor and central heating. Featuring two extremely comfortable double bedrooms and two contemporary bathrooms which include a rain shower and walk in shower this lovely home will keep you constantly contented. Sitting on 66 acres of private ground including two long beaches and a forested area there is plenty to discover. It is unsurprising that this stunning area provides a backdrop on the upcoming Bond movie "Skyfall" and is also home to a lodge previously owned by Ian Flemming himself that too features in the film.
Quintessentially Villas is a sister business of Quintessentially. Quintessentially is the leading international luxury lifestyle company. Launched in 2000 as a small London based concierge service, Quintessentially has experienced a complete transformation in a decade, and currently have offices in over 64 cities around the world. The service provided to their discerning and HNW members is proactive and personalised, catering to every member's need, from last minute restaurant bookings, travel arrangements, and access to private parties, as well as fulfilling every unusual request and successfully connecting businesses all over the world. Quintessentially can offer access to the inaccessible and can make the seemingly impossible, possible. In a bid to ensure only the very best service is delivered across the luxury market, Quintessentially has also launched 32 luxury sister businesses comprised of experts in every luxury division. This includes real estate, travel, luxury retail, wine, art, flowers, private aviation and more (http://www.quintessentiallygroup.com).