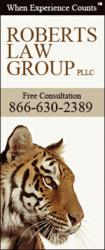 Wilmington, NC (PRWEB) October 08, 2012
North Carolina law enforcement officers are authorized by law to set up motor vehicle checkpoints to determine whether drivers are driving while intoxicated or driving under the influence of alcohol or drugs. But, just because law enforcement can legally conduct DWI checkpoints doesn't mean that the procedures followed are always legal.
At Roberts Law Group, PLLC, in Wilmington, our criminal defense attorneys work with individuals arrested on suspicion of DWI at a driver's license checkpoint or DWI roadblock. We have successfully handled DWI checkpoint cases, getting charges reduced or dismissed because there was not enough evidence to support a DWI conviction or because law enforcement did not act within the scope of their authority in making an arrest at a DWI checkpoint.
A successful DWI defense strategy includes considering whether the DWI checkpoint itself was legal, whether the police officer who made the arrest had the authority to do so in the jurisdiction where you were arrested, whether a search was conducted without probable cause or reasonable suspicion in violation of the Constitution and whether any field sobriety tests were properly administered, among others.
Getting drunk driving charges related to an arrest at a North Carolina DWI checkpoint dismissed is our first goal for all of our DWI defense clients. Depending on the facts of your case, that may or may not be an option. If it is not, we work toward minimizing the consequences of a DWI conviction, negotiating for a lesser charge or a lesser sentence.
If you have been arrested at a DWI checkpoint in Wilmington, New Hanover County or elsewhere in North Carolina, you do have rights. Visit http://www.wilmingtonlawteam.com to learn more about Roberts Law Group, PLLC, and our experience in handling DWI cases throughout the state. We offer a free, same day consultation in all criminal defense matters.
For more information about Roberts Law Group, PLLC, please visit our Wilmington criminal defense website and criminal defense blog. Ryan Stump is a criminal defense attorney who defends against sex crime charges, DWI charges and abuse charges, among others in New Hanover County. To contact criminal lawyer Ryan Stump, please contact the law firm or call 800-547-2016 for a free consultation. Roberts Law Group, PLLC, can also be followed on Facebook at facebook.com/nc.criminal.defense.