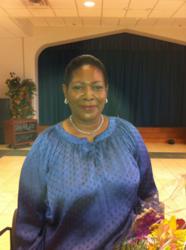 Riverdale, NY (PRWEB) October 08, 2012
Eileen Malo, CEO of Bon Secours New York Health System's Schervier Nursing Care Center, is proud to announce Doret Saunders, certified nursing assistant (CNA), as the system's 2012 recipient of the "Dedicated Service Award."
The Dedicated Service Award, Bon Secours Health System's highest honor, is presented annually to one employee at each local health system facility, who demonstrates a strong commitment to the core values of Bon Secours: justice, respect, integrity, quality, compassion, innovation, stewardship and growth. Recipients of the prestigious award demonstrate personal growth and development, achieve accomplishments beyond the job requirements, and consistently deliver a high-level of service to residents and the community, while providing a positive influence on the care center.
"A true team player and vital part of the night-shift staff, Doret has worked faithfully as a CNA at Schervier for over 28 years, and is a shining example of someone who lives our mission and values," said Ms. Malo. "She embodies this award by continuously dedicating her service to ensure residents are as comfortable and safe as possible throughout the night. Doret has gone above and beyond the call of her designated duties to look for ways to enhance employee engagement and promote a great team spirit within the center."
A ceremony was held on Friday, September 21, 2012, at Schervier, to celebrate Ms. Saunders' ministry and her service excellence, and to recognize the former eleven "Values in Action" monthly award winners from the past year. Ms. Saunders will also be honored in November at a celebration in Baltimore, Md., with all of the other Dedicated Service Award winners across the Bon Secours Health System.
About Bon Secours New York Health System
Bon Secours New York Health System is part of Bon Secours Health System Inc., a not-for-profit Catholic health system headquartered in Marriottsville, Md.
Schervier Nursing Care Center is located in the Riverdale section of The Bronx, and is part of Bon Secours New York Health System, whose mission is to bring compassion to health care and to be "good help to those in need." Bon Secours New York's mission is carried out through the services and programs of Schervier Nursing Care Center, Schervier Short-Term Rehabilitation in Riverdale, Schervier Respite Care, Schervier Center for Alzheimer's and Dementia Care, Schervier Home Care, Schervier Cardio/Pulmonary Sub-Acute Care, the Bon Secours Center for Research in Geriatric Care and the Schervier Apartments. Information about Schervier and Bon Secours New York may be obtained from the Business Development Department at 2975 Independence Avenue in Riverdale, by calling (718) 548-1700, and at http://www.scherviercares.org.
###