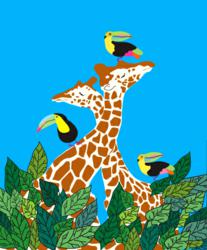 Somerville, MA (PRWEB) October 07, 2012
Blue Cloud Gallery is pleased to announce that the work of Boston area artist, Tamara Major is now on sale. The gallery, owned and operated by photographer Betsy Lenora, features works by local artisans and craftsman. Blue Cloud Gallery is located in the heart of Ball Square in Somerville.
Blue Cloud will be featuring two series from Tamara Major: her Jazz Musician Series and her Animal Series. Both series represent different areas of inspiration and creativity sure to stir the minds and imaginations of young and old alike. The pieces offered by Blue Cloud are appropriate for both home and office, and make great gifts.
According to Ms. Major, the Jazz Musician Series is inspired by her love of jazz music. She creates the pieces using a combination of hand-drawn and computer-generated images. A perfect blend of color, texture and shapes combine to make visually stunning prints that are both beautiful and inspiring.
"My Jazz Musician Series is a reflection of the way I feel when listening to jazz music - playful and loose," said Ms. Major. "I let my pen go where the music takes me, flowing without specific outcome."
As for the Animal Series, Major prefers to use what she calls a "silk screened style" design combining bright colors and whimsical imagery. Though the work is still produced using computer software, it is unique, original, and visually stimulating. Tamara Major has been actively producing artwork in Boston for the last 15 years. Blue Cloud Gallery invites visitors to view Ms. Major's Animal Print Series at the fall sale.
About the company:
Blue Cloud Gallery, located in the heart of Ball Square, Somerville, invites the public to explore the many interesting handcrafted gifts created by local artisans. This unique store, owned and operated by fine art photographer Betsy Lenora, supports local artists and helps the community discover fine artwork. As a premier provider of art for sale in the Boston area, Betsy takes pride in the local artists and their art she represents. Come and be inspired by the ever-expanding array of fun and functional items designed, created and produced to delight every visitor. For more information visit her website at http://www.bluecloudgallery.com.