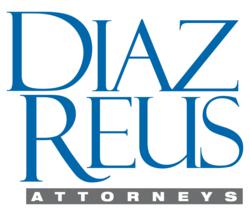 Miami, FL (PRWEB) October 08, 2012
Diaz, Reus & Targ, LLP, has hired Associate Attorneys Paola Sanchez and Robert Kiss., announces Global Managing Partner Michael Diaz, Jr. Diaz, Reus & Targ, LLP is a full-service international law firm focusing on trade, customs, financial, commercial and corporate transactions, tax, immigration, litigation, and arbitration matters.
Sanchez is an international lawyer experienced in cases concerning Latin American corporations and governments in which Mexican law is involved. She also practices immigration law. Kiss practices international law focusing on global trade, business law and complex civil litigation. He is also experienced in immigration cases and employment issues. Sanchez and Kiss will be located in the firm's Miami office.
Diaz also announces that Luis Del Valle Gurria has joined Diaz Reus & Targ, LLP as Chief International Tax Consultant – Mexico City office. A noted author, educator, consultant and advisor to governments and multinational corporations regarding critical tax matters, Del Valle Gurria is highly experienced in corporate tax, and mergers and acquisition matters, as well as mediator in shareholder and family inheritance conflicts.
About Diaz Reus
Diaz Reus represents dealmakers around the world with a focus on emerging markets. With experienced lawyers in the U. S., Latin America, Asia, Europe, and the Middle East, the firm is uniquely on the ground suited to handle a wide range of complex commercial, business, and financial transactions across international borders. Diaz Reus lawyers have experience in government relations, trade, compliance, customs, tax, and immigration matters, as well as internal and government investigations, complex litigation, and arbitration matters. Diaz Reus operates offices in Miami and Orlando, Florida; Caracas, Venezuela; Shanghai, China; Dubai, U.A.E.; Iraq; Frankfurt, Germany; Bogota, Colombia; Panama, Republic of Panama; Mexico City, Mexico; Buenos Aires, Argentina; Santiago, Chile; and an affiliate office in Sao Paulo, Brazil. For more information, visit http://www.diazreus.com or http://www.jdsupra.com/profile/diazreus