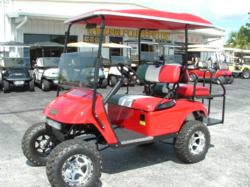 E-Z-GO Wholesale pricing for dealers!
Tampa, FL (PRWEB) October 06, 2012
TMAIDA PR Announces that Golf Car Depot has wholesale golf cart pricing for many of its E-Z-GO Golf Carts.
Wholesale pricing now available at Golf Car Depot for many of its E-Z-GO Golf Carts serving Florida and other parts of the country.
Dealer only wholesale pricing now available through Golf Car Depot, a leader in Golf Carts for sale in Pompano Beach Florida and the Tampa Florida area, including, Land 'O Lakes Florida, Wesley Chapel, Brandon, Clearwater and Sarasota Florida.
Golf Car Depot started selling Golf Carts in 1996 and offers many E-Z-GO models to choose from. Golf Cart Depot also provides custom lifts and part and accessories for all Golf Cart needs.
For more information, contact Golf Cart Depot at http://www.GolfCarDepot.com or call (954) 941-3918