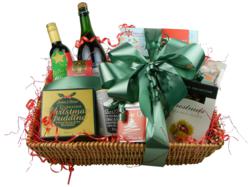 93% of mums had started buying Christmas gifts by July
(PRWEB UK) 8 October 2012
It may seem crazy but, half way through the year, 93% of mums have started buying presents for Christmas, according to Mumdex (1). Careful planning definitely has its place in 2012's economy and the DIY hamper from GoodnessDirect is just such an example of forward-looking preparation.
The challenge is clear for both men and women. Men seem to shop in a characteristically different way to women. Last year, three-quarters of those hitting the shops on Christmas Eve were men, according to the New West End Company which represents 600 retailers in central London (2).
However, whether a customer is someone who leaves Christmas shopping to the last minute or plans scrupulously early, a GoodnessDirect hamper is likely to take the effort out of shopping for gifts.
"It's not difficult to imagine a festive hamper filled with so lots of goodies and it's so easy to order," says GoodnessDirect Manager, Faith Driscoll. "People love delicious organic chocolate boxes, Christmas puddings and cakes, treats like mince pies and stollen, chestnuts, stuffing, spices for mulled wine, and indulgent toiletries like cruelty-free cosmetics and skincare. When all that comes in a basket wrapped with a beautiful bow, it's a delight! It's bright, it's imaginative, and what's more, it helps the customer get ahead of the crowd."
Food hampers not only make impressive gifts that can be fine tuned to a loved one's personality, the order can also be made from the comfort of home in just a few minutes. Then, GoodnessDirect looks after everything else.
With DIY hampers the customer simply selects the items they want and controls the value they want to spend. The choice is as wide as they want varying from traditional luxury foods and organic gifts to tempting free-from diet treats. Pre-prepared vegan, Fairtrade, dairy-free, gluten-free and wheat-free hampers are also available for ease of choice.
The finely wrapped gift-basket has the option of being delivered with a personalised handwritten message composed by the purchaser, and it can be sent out at the time the customer specifies, making it just right for organised and last minute shoppers.
All the customer has to do is visit http://www.GoodnessDirect.co.uk and click on 'Christmas Shopping' in the left hand menu. Any GoodnessDirect order of any size that includes a gift box, gift wrap option or hamper basket will be decorated and delivered by hand to anywhere in mainland UK.
Ends
--
GoodnessDirect is the health and well-being haven with 1000s of foods available to be delivered to your door. We cater for customers of traditional foods, vegans and vegetarians, organic foodies, and those on a restricted diet such as gluten or dairy free. Our website features in-depth dietary information, so that you know exactly what you're getting, and we'll happily gift-wrap it for you to make a gift to your friends. Visit http://www.goodnessdirect.co.uk.
For more information or photos contact Tschaka Roussel-Milner
tschaka.roussel(at)goodnessdirect(dot)co(dot)uk
0871 871 6611
1. http://www.retailgazette.co.uk/articles/33023-half-of-mums-concerned-about-christmas-cash
2. http://www.mirror.co.uk/news/uk-news/men-fuel-christmas-eve-shopping-187787