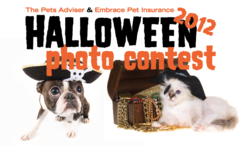 Not only is it just plain old-fashioned fun, but it's for a great cause.... $1,000 will go a long way toward helping animals in need.
Brooklyn, NY (PRWEB) October 07, 2012
A Halloween pets photo contest is giving pet owners across the country a chance to win up to $1,000 for their favorite nonprofit animal shelter or rescue.
Plus, there's a virtual cornucopia of other great prizes for 13 winners in all, a fitting number for a Halloween contest, according to the sponsors, Pets Adviser and Embrace Pet Insurance.
The Pets Adviser and Embrace Pet Insurance Halloween Photo Contest kicks off Monday, October 8, 2012, and entries will be accepted all the way until the contest end date, Thursday, November 1, 2012.
Pet owners may submit a photo of their dog or cat wearing a costume. During the voting period, entrants and their friends will be able to vote once a day. The top 10 vote getters at the end of the voting period will be eligible for the Grand Prize — a $1,000 donation to the registered 501(c)3 nonprofit animal shelter or rescue of the winner's choice, courtesy of Embrace Pet Insurance.
A panel of judges will make the final determination of all winners, based on creativity, originality, charm and appeal, and photo composition. "Best Cat Photo" will get a designer cat litter box from Kitty a Go-Go, and "Best Dog Photo" earns a $100 box of toys from Kong. Other prizes will be presented by Bissell and by Pets Adviser. In all, 13 winners will be selected by the judges.
Dave Baker, editor and publisher of Pets Adviser, says the pet advice website is delighted to be able to offer this yearly contest. "Not only is it just plain old-fashioned fun," he says, "but it's for a great cause."
Baker continues: "Animal shelters and rescues operate on incredibly lean budgets. Housing an animal at a shelter might cost ten dollars a day. So any size donation helps a lot, but $1,000 will go a long way toward helping animals in need."
Please share this article with your friends and family — especially if you work with a nonprofit animal shelter or rescue or know someone who does.
For details on entering the Halloween pets photo contest, go to the following URL:
http://petsadviser.com/contest/halloween-pets-photo-contest-dog-cat/
Contest Sponsors
Pets Adviser
Embrace Pet Insurance
Kitty a Go-Go
Kong
Bissell
Pets Adviser Shop
About Pets Adviser
Founded in 2009, Pets Adviser is a pet advice website that aims to educate and entertain pet owners with well-researched advice about pets, directly from the experts. Ylan Q. Mui of the Washington Post says, "I love reading Pets Adviser! They give the real deal on life with your animals, served with a healthy dose of humor and understanding." Pets Adviser is devoted to helping companion animals in need, donating 10 percent or more of advertising proceeds each year to animal charities or causes.
About Embrace Pet Insurance
Embrace Pet Insurance is a specialist insurance company focused on changing the pet insurance business. Embrace provides flexible cat and dog health insurance products, removing the need to choose between necessary, but costly, medical care versus the life of a much-loved pet. Embrace is a privately owned, Ohio-based company and is one of the most highly rated pet insurance companies in the industry. Embrace donates regularly to cat and dog shelters, and its employees volunteer their time for good causes too.