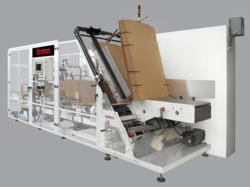 Alexandria, MN (PRWEB) October 05, 2012
• Servo-driven BrentonPro Mach-2P, delivers high performance in small package

Exceeds machine finish, sensing and inspection demands of medical and pharma manufacturers
Brenton announced today its new BrentonPro Mach-2P servo indexing case packer for Medical and Pharmaceutical industries. The advanced BrentonPro Mach-2P is a customer specification compliant design and occupies smaller floor space on the packaging line than other indexing motion case packers.
The BrentonPro Mach-2P case packer is an all-servo driven, side load case packer utilizing indexing motion to load up to 25 cases per minute. It includes crucial features to Medical and Pharmaceutical manufacturers such as white powder coat or specified machine finish and redundant quality checks, including dual sensing for counting parts and camera inspection system.
The BrentonPro Mach-2P offers unparalleled versatility and performance for nearly any case design. It reliably handles RSC, HSC, tray, wrap-around, knock-down, and harness for cartons, bottles, cans, and pouches. A continuous welded frame is standard for long service life. The light weight aluminum guard package is seamless, built into the frame of the machine for a smaller footprint. It also eliminates gaps that can pose sanitary issues.
"The BrentonPro Mach-2P is an excellent solution for the special demands of medical and pharmaceutical manufacturers, backed by our capabilities to provide required validations and extended Factory Acceptance Testing," said Troy Snader, Brenton Vice President of Sales. "For more than 20 years we have partnered with our customers to deliver customized case packing solutions. We have developed advanced technical and analytical expertise and implemented rigorous testing at our advanced facility to help customers. The Mach-2P is also ideal for anyone interested in increasing throughput, reducing automation costs and using less floor space while maximizing manufacturing."
See the BrentonPro Mach-2P servo indexing case packer at Pack Expo International in booth N-4013. For more information please contact Brenton at 800-535-2730 or sales(at)becmail(dot)com.
About Brenton
Brenton, powered by Pro Mach Inc., designs, manufactures and integrates a wide-range of end-of-line packaging equipment. Brenton is a packaging industry leader in servo-technology applications and integrating automated solutions for complex packaging needs. Their extensive product line includes case packers, shrink wrappers, palletizers, and robotic solutions for most end-of-line packaging and material handling needs. All Brenton products are designed and manufactured at their state-of-the-art facility in Minnesota. For more information about Brenton visit their website at http://www.brentonengineering.com or contact them at 800-535-2730 or sales(at)becmail(dot)com.
About Pro Mach
Pro Mach, Cincinnati, Ohio, is a leading provider of integrated packaging products and solutions for food, beverage, household goods, pharmaceutical, and other diverse consumer and industrial companies. Through three business units and related divisions, Pro Mach provides equipment, training, installation, and parts in primary packaging, end-of-line packaging, and identification and tracking. http://www.ProMachInc.com